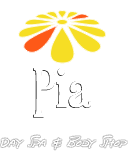 Shared Thoughts
The best wax experience E.V.E.R.!!! It is such a pleasure to find people who love what they do and do what they love. My girl loves what she does and it shows! I feel very fortunate to have happened across Pia's ; )
Until my next visit,
Thank you!
Diane

when? August 28th 2014
My girl was great. I enjoy coming to her every time I go to Pia's.

when? August 28th 2014
I love everyone at Pia's. My esthetician, as always, did a phenomenal job. She reminded the last time I had visited I had just found a little dog, so I was happy to relay I had reunited him with his owner. These are the little things that make Pia's my go to spa. The staff is friendly and personable and they really listen to you when you are there. Thank you for letting me relax and dose off, I really needed the down time!

when? August 25th 2014
This is the absolute BEST wax I have had in seven years! The salon was so clean and professional and smelled like delicious lemongrass oil. My esthetician was so quick and gentle. It was almost painless and so perfect. She was sweet and easy to talk to, not boring. I loved my wax and won't be getting waxed by anyone, anywhere else! Thanks from me- and my boyfriend ;) ... see you in four weeks!


when? August 25th 2014
The experience over all was fantastic!

when? August 25th 2014
Wonderful experience, best massage I've had in a long time!

when? August 24th 2014
Fantastic as usual! Top notch professional staff. I've enjoyed very much being a Pia regular now for about a year; I will continue to be a regular because of such outstanding service : )

when? August 24th 2014
Really enjoyed the people and environment.

when? August 24th 2014
My eyebrows have never looked better. I was referred on a desperate search for getting great looking eyebrows. Thanks for making my eyebrows look amazing!

when? August 23rd 2014
Michelle I.
South Tampa Spa
The receptionist was welcoming and kind, she offered me a drink and told me about the product that was making the spa smell so delicious after I commented on it.

My esthetician was wonderful, my brows haven't looked this good in ages! She explained to me what I needed to do in order to have them begin to grow in properly (from a waxing experience gone wrong while I was still living in DC). I will come see her again for sure.

Overall a wonderful experience from start to finish, I felt relaxed when I left and that's not usually how I feel after a wax :)

when? August 23rd 2014
Marianne M.
South Tampa Spa
My esthetician was wonderful! She was very friendly and very knowledgable. She answered all my questions and provided me with an amazing and relaxing facial. I will definitely be back and have already recommended her to a few friends of mine. This was my first time at Pias and it certainly exceeded my expectations.

when? August 23rd 2014
I wanted to say, I scheduled an appointment with one of the estheticians @3:50p on 08/21/2014. And, the receptionist was very good about everything. i had a doctor's appointment also on this day @ 3:15p. i didn't think i would make it to both. i cancelled the appointment with the esthetician. Then i saw i was able to make the appointment time. I called back to get that same appointment, luckily it was taken. HOWEVER, i called several through out the day asking for any earlier appointments. the receptionist was great, she remained professional and assisted each call pleasantly. I appreciated that, that made a difference. My esthetician did a great job as always.thank you

when? August 22nd 2014
great experience, professional staff, would recommend anyone come here. have expanded my waxing services since starting and i absolutely love it. Sarah is great!!!!!

when? August 22nd 2014
Always does a wonderful job on my lashes. She is the best!

when? August 22nd 2014
Every appointment at Pia is exceptional in everyway. The staff is upbeat and friendly. I immediately felt welcomed and at ease. My esthetician is professional and an expert at what she does. I wouldn't trust anyone else! I will be back and recommend Pia to all my friends!

when? August 22nd 2014
My eyelash expert was wonderful. She took the time to really explain the service. She even suggested that if I was not sure, to take my time and perhaps come back when I was sure. Her confidence and sincere interest in my satisfaction made me know that she would take good care of me and she did.

when? August 21st 2014
First time at Pia's and first time with these services and I had a great experience. Everyone was so friendly! My esthetician did a great job, she made me feel very comfortable and was very professional. Everyone was. My experience was so positive that I actually want to come back!

when? August 21st 2014
Jessica L.
South Tampa Spa
The receptionist was very warm and welcoming. The front area was clean and tidy, as was the restroom I used while waiting. I was seen right away by my Esthetician. She did a fantastic job making me feel comfortable. She is very knowledgeable and did a great job explaining the waxing process and aftercare. I look forward to visiting Pia again for future services!

when? August 20th 2014
Amazing experience as always, my esthetician is the best!

when? August 20th 2014
It was my first visit to Pia's, and I highly recommend my esthetician she was phenomenal! First, the receptionist was very prompt in responding to my appointment request, and scheduling was very easy. I received a reminder and confirmation of my appointment the day before which was appreciated.
The esthetician did an excellent job on my Fiji pedicure and manicure. My hands and feet were smooth and the polishing was flawless. She has an excellent eye for detail and I did not need to point out any areas that needed attention. Last, she has a very pleasant demeanor and made me feel at ease. I will definitely be returning for additional services.

when? August 17th 2014
An amazing esthetician. She is very personable, professional and does a super job! I have never left an appointment dissatisfied. Keep up the good work!

when? August 17th 2014
I love Pia:) I've been going to Pia for years and wouldn't go anywhere else for waxing:) all the staff is fantastic

when? August 17th 2014
My esthetician was very attentive and did a fantastic job.

when? August 16th 2014
Very nice place and Great massage!

when? August 16th 2014
The girls at Pia are all so sweet, they make me feel like I am among friends. It's always a pleasure to visit. I have been coming to Pia Winter Park for years now, and I have never had a bad experience. The quality of services and products as well as the professional and friendly staff keep me coming back, despite more competitive prices elsewhere.

when? August 16th 2014
I love coming to Pia because not only are my services always great, but everyone there is so nice and easy to talk to. My massimo facial was amazing and exactly what I needed - I mentioned to my esthetician that I had some neck pain and she did everything she could to massage out any tension in my neck. My skin also looks so much more bright and smooth after the facial and I didn't have any redness from extractions like I have gotten in the past at other places. My pores are much more refined now which is exactly what I was looking for!

when? August 14th 2014
My appointment was everything that I had hoped it would be. The front desk receptionist was warm and friendly. My Esthetician was extremely professional and really took her time to assess my brows. She let me know what she was going to do before she began. My nail tech was very friendly and she really took her time on my mani/pedi. The job was thorough and flawless. I will absolutely return soon!

when? August 13th 2014
Jessica S.
Winter Park Spa
I came to Pia because I used to live in Tampa and I had a good experience there. And this location did not let me down! Everything was perfect! I was 5 minutes late because I got a bit turned around driving there for the first time. When I arrived I apologized because I hate being late anywhere, and the woman at the front desk was so pleasant and immediately put me at ease. My esthetician was a consummate professional. She was thorough and took her time but efficient as well. She had me in and out of her room in 30 minutes. I highly recommend this place for waxing and look forward to going back to try other services.

when? August 13th 2014
I had been holding on to a Gift Certificate since December (Christmas present). I decided to pamper myself for my Birthday. The lady at the front desk was attentive and pleasant. I had some very refreshing green tea while I waited for my Massage Therapist was wonderful. She was soft spoken and polite. The Massage was incredible. She has great hands and made me feel comfortable and relaxed... which is exactly what I needed. It was my first time at the establishment and I know I will return. Thank you all!!!

when? August 13th 2014
I have been a client for years and would not go to anyone else! Not only is she very professional and skilled, but she has a great personality, great sense of humor and possesses a natural gift for making clients feel at ease. She is very knowledgeable and educates her clients, as well.
The receptionist is great! She has a wonderful presence and greets clients and provides excellent customer service.

when? August 10th 2014
I had a great first time experience at Pia on Friday. Everyone was friendly and helpful. My esthetician did an amazing job on my Massimo facial. She gave me good advice on what products I need to keep up my skin care better and I look forward to my next facial with her soon.

when? August 10th 2014
A natural brow artist. She always does a beautiful job.

when? August 9th 2014
Everyone is always very friendly and professional when I visit. She did an amazing job of shaping my eyebrows. This is the only place I want to go for my waxing needs. Thanks ladies!

when? August 9th 2014
My esthetician is wonderful, does a an amazing job and makes you feel comfortable during the whole Brazilian experience!!

when? August 9th 2014
Will be back!!

when? August 8th 2014