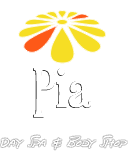 Shared Thoughts
As usual the overall staff is very friendly and my esthetician is a great person to go to for waxing. I believe I have now gone to all the ladies and have never had a bad experience. They are all very professional and make the process go by fast with their candor.

I have recommended you multiple times!

when? August 1st 2014
Crystal S.
Winter Park Spa
I cannot recognize her face from the pictures, but the one who performed the facial did an excellent job! Though one of the products burned a bit, she remained professional and was courteous throughout the entire experience. Very well done!

Overall, from start to finish I had a great experience. The hospitality was impeccable, and I would sure recommend this to people traveling to the area. I felt relaxed from the moment I arrived, and I have nothing but good things to comment!

when? August 1st 2014
My nails look great and had a good experience. Very professional. Everyone at Pia is always very cordial and helpful.

when? July 28th 2014
Everyone was very welcoming and professional! It was a very relaxing experience. Tech was very knowledgeable and professional. It was one of the best facials I have ever had!

when? July 28th 2014
My Esthetician did an excellent job and explained each stop of the process to me. She was very warm and friendly and made me feel comfortable right away. I will definitely be back! The whole staff was exceptional, from the front desk to all employees. I would highly recommend Pia to my friends!

when? July 27th 2014
Perfect....on time...welcoming....nice atmosphere ....nice job!!!!!!

when? July 27th 2014
This is the second time I go to Beatriz for waxing and I cannot say enough good things about her! Not only is she very professional, but she is extremely nice, polite and such a warm person. I have not had good experiences with waxing at so many other salons, but with Beatriz, she waxes in a very short amount of time, leaves no wax residue, and she is extremely professional. :)

when? July 25th 2014
I had a very nice welcoming experience. Liby was excellent and really took her time to explain where my eyebrows needed to grow in and what she could do for me once they grew in. She helped introduce me to new helpful products to enhance brow growth as well. Definitely recommending this place to friends and coworkers.

when? July 24th 2014
I've been to multiple spas for a wax, and I had the BEST experience at Pia. The staff was friendly, and my technician was fast and very kind. She made me feel comfortable, and was a pleasure to talk to. I am excited to return for another service!

when? July 23rd 2014
This was the best pedicure I have ever had! My nail technician was great. The soles of my feet are very sensitive; this has always been an issue with pedicures, but not this time! The spa is very nice, and the atmosphere is soothing and relaxing. The staff is very friendly and attentive. I highly recommend Pia Esthetics, and I will definitely return!


when? July 22nd 2014
Best service ever, this is definitely the ONLY spa I will be going to. Thank YOU for providing an excellent service!!!


when? July 21st 2014
Wonderful experience.very nice and very professional. My waxing results were fantastic. And the music and lemongrass scent in the place was very relaxing. Thanks, I'll be back:)

when? July 19th 2014
My Full Specialist was very professional and is a perfectionist at all she does. The Customized Manicure and Pedicure was awesome! She also exceeded my expectations with my first waxing experience. I would definitely return to your spa! Love your place! Thanks so much!!

when? July 16th 2014
Maryellen C.
Winter Park Spa
My entire experience was wonderful. My Esthetician was delightful and has excellent skills. After a hard day at work is was my pleasure to sit back and enjoy the spa. The scents and soft music were so enjoyable! I would highly recomend PIA to any of my friends. I look forward to coming again. Thank you all for your great service!

when? July 16th 2014
Always a relaxing and wonderful experience. I highly recommend the microderm facial. You will be amazed of the results! She introduced me to eyebrow tinting, which I love. I have fairly light eyebrows, and she tinted them to the perfect color and they look very natural.

when? July 14th 2014
Overall, I would say this was a 5 star experience. I was politely greeted upon arrival and offered a refreshment while I waited for my appointment. I especially like the use of the iPads' to gather client information. I had eyelash extensions from another facility and wasn't happy with the service. I explained this to the lash extension expert with the caveat that she try to do a lash fill but that I understood if she was limited by what she could do under the circumstances. The lash expert took time and great care to rectify the substandard extensions and then beautifully filled in the remainder. The work area was airy and comfortable although not quite as private as I would have liked. My lash expert is a consummate professional. I will be back for my next fill. Thank you!

when? July 11th 2014
My esthetician was fabulous!! She was friendly and made the wax painless! Also recommended a great exfoliating soap which I love. Front desk was great too. I happened to be in the area and called hoping for a chance that they could squeeze me in, and they were nice enough to do so! I recommend Pia to all my friends!

when? July 10th 2014
I had never had waxing done before and my daughter in law insisted on me coming to Pia. I am glad that I did. My esthetician was outstanding and very helpful and I very much appreciated her way. I would highly recommend Pia in the future.

when? July 2nd 2014
As this was my first waxing of this type, my esthetician did a great job calming my nerves and helping me understand the process -- and the potential pain. :) We had a grand time laughing about how nervous I was and she did an amazing job making me feel SUPER comfortable and getting me through the experience. I would recommend her to anyone!

when? July 2nd 2014
Easily one of the best massages I've had! I left feeling completely relaxed and my massage therapist was able to work out knots in my neck that bother me every day. I had a couples massage with my husband and we both left commenting how we'd like to make this a much more regular experience.

when? June 29th 2014
The front desk staff member was kind and offered to make me tea or coffee while I waited. My esthetician was informative, friendly, and funny! She made me feel comfortable and the wax was essentially painless. I will be back again soon!

when? June 27th 2014
I received a Pedicure performed the other day and it was by far the best I have ever had. I am just a few weeks away from my due date and therefore extremely pregnant and she took such great care of me. I love the use of the bowls as I do not go anywhere with foot spas. I will be back, hopefully I have time for a wax before this baby comes. Thanks Pia! Oh and the Lemongrass scent throughout is a wonderful touch.

when? June 26th 2014
I always feel better after getting any treatment at Pias. The whole experience is perfect from the staff to the services. most important 100% customer service guarantee. I find more and more that the customer care has gotten loss. at Pias I feel especial every time I come in from the moment I check in to the moment I leave.

when? June 26th 2014
Esperanza U.
South Tampa Spa
These ladies were awesome!!!!! This was my first time at Pia and it definitely will not be my last. I absolutely loved my visit.

when? June 26th 2014
I have been a huge fan of Pia spas ever since my first visit to Pia Westchase a few years ago.I have since moved over to the East coast so I tried the Winter Park Spa and I thoroughly enjoy every visit:from the moment I walk in the door I begin to relax, your facility is charming,spotless and smells AMAZING! Your Receptionists are professional and friendly and well groomed ( They obviously take advantage of the services offered -great for sales!! ) I lucked into booking an appointment yesterday and now Winter Park has a new client. My Esthetician was friendly,capable and most importantly a true artist.I'm beyond thrilled! I'm already looking forward to my next visit. Thank You!!

when? June 25th 2014
The front staff was nice and had everything ready to go for me. I was attended to immediately. My esthetician was quick and and made sure everything was well taken care of. Great experience and I will definitely be back.

when? June 25th 2014
My esthetician was very friendly, calming, and pleasant. She provided great feedback and recommendations regarding skincare routines, and also offered me samples to see how I liked the suggested products. Overall, a relaxing and enjoyable experience.

when? June 24th 2014
I've been going to Pia in St. Pete for over a year and a half now, and I don't go anywhere else. Everyone is very caring and meticulous with the services. I have never had any issues with Pia, and would highly recommend it. I started going to Pia because I was afraid to get a full brazilian wax, and they have so many in-between options that I felt comfortable getting what I wanted.

when? June 23rd 2014
This was my first visit to Pia. My technician did a great job. She was very personable and I felt comfortable during the entire visit. I will be back again in four weeks!

when? June 21st 2014
It was great; best and quickest waxing I ever had. I will definitely return; have already made my next appointment.

when? June 21st 2014
I always enjoy my "relaxing" time at Pia. She is my favorite.
I always request her when I make an appointment. She knows exactly how I like my pedicure! :)

when? June 21st 2014
My girl was fabulous. This was the first ever pedicure outing for my daughter and I and we could not have picked a better place or better people to take care of us. All of the staff that we encountered were friendly and personable. The salon was inviting, clean, and comfortable. We laughed and chatted and were done before we knew it. We were kind of wishing it could have lasted a little longer. I would and will recommend you to others in the area! Thank you for a wonderful day and a terrific experience.

when? June 20th 2014
I was referred to Pia by one of my co-workers and I must admit the experience was exceptional! As soon as I walked in, I was greeted by a welcoming receptionist, soothing aroma and a relaxing ambiance, I knew I was in for a treat. I am a newbie to waxing in the nether region and decided to go completely bare. Let me tell you, my Esthetician was a complete professional from beginning to end. Only thing left to say is Pia, you have gained another loyal customer!

when? June 20th 2014
After receiving a gift certificate to the Pia Day Spa, I scheduled an appointment for a facial. It was only the second one I've ever had, but this was such a pleasant experience that I would love to make it part of a regular skin regimen.
My Esthetician was kind, very professional and made the whole experience so relaxing. I chose the Age Smart Facial, and my skin feels softer and smoother. I love the products she used and purchased the Dermalogica Multivitamin Serum. I've only used it for a couple of days, so it's too soon to see the effects, but I love the feel of it and plan to add it to my skin care routine.
My entire experience at Pia Day Spa was very positive. The receptionist was welcoming; she greeted me immediately and offered me a glass of sparkling water. When I checked out, she was sensitive and efficient.
Overall, this visit to the spa was excellent, and I look forward to my next visit.

when? June 19th 2014
I loved the Pure Fiji Pedicure...very relaxing and great massage!


when? June 19th 2014