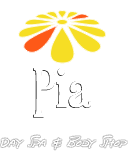 Shared Thoughts
Jillian A.
South Tampa Spa
I had another massage scheduled that day that was cancelled by the therapist 5 minutes before. It was my birthday, had taken the day off and was ready for my first prenatal massage. I called Pia at noon and was able to be fit in at 1:30pm. The massage therapist was a great therapist, very comforting and knowledgeable since this was my first prenatal massage and had no idea what I was doing. Felt wonderful after. Will definitely be going back!

when? September 29th 2014
As always, had a great experience at Pia! Staff was professional, on time, and my tech always does a great and detailed job! I will definitely be back.

when? September 28th 2014
My esthetician gave me a great facial! My skin looks and feels so much better. The massage therapist did a grate job on my massage. The massage therapist was very nice and perceptive. Everyone deserves 5 stars....even I I can't push all the buttons from my phone.

when? September 27th 2014
Thank you for the most amazing experience, I loved every moment and cannot wait to come again. It was truly serene, friendly, warm, welcoming, peaceful, and the most fun and special treat. My Mom and I had the best time! So lucky to get to come to this spa!

when? September 24th 2014
My Specialist was very professional and did a very through waxing job with literally no pain! I will definitely use her services in the future!

when? September 21st 2014
When I arrived I was immediately greeted from the front desk, thank you for being so pleasant. She got me a water while I waited. My massage therapist greeted shortly after my scheduled time. First impression was that there was a high level of hospitality and the girls really cared. My therapist asked me a few questions and pin pointed some concerns I had where I was sore. Working in restaurants for almost 20 years and an avid traveler at resorts, I've had several massages in my day. The therapist was up there with the best. She was able to sense my tolerance level for pressure and I could just flat out tell she knew what she was doing. My right shoulder had some issues and it feels completely fine today, the day after. Good things do come in small packages :) I will definitely return!

when? September 21st 2014
Excellent experience!!! The Receptionist is always friendly and helpful at front desk!! Super sweet!! My lash expert is great!! Love my lashes!!

when? September 19th 2014
My nail technician did a beautiful job on my manicure and pedicure. She is very detail-oriented and very conscientious. Since the economic slowdown, my income has dropped dramatically, however, Pia Spa is my one little luxury I allow myself. I go less often than I would like, but I refuse to give it up. The atmosphere is very relaxing and the staff is always pleasant and courteous.
I've had manis, pedis and massages there and highly recommend it for all of those services.

when? September 18th 2014
Awesome place! My specialist was the best! I am very glad I chose Pia Esthetics. My girlfriend and I just moved to St Pete this week and it's nice to have already found the right place to get things done.

when? September 17th 2014
My facial was just perfect. It was so relaxing and my skin felt amazing. The technician provided great skin care advice and product recommendations. I will definitely be coming back!

when? September 15th 2014
As always, my experience was terrific. The gal at the front desk was very nice and friendly. The lobby and the waxing room are always very clean (love the lemon scent - truly uplifting and invigorating!) My Technician was very attentive and kind. We carry on a nice conversation while she gets the job done. Wouldn't change a thing!

when? September 14th 2014
Had a really bad eyebrow waxing experience at a different nail salon. Completely destroyed my eyebrows and my confidence. I'm very particular about them. Pia's saved my eyebrows and I get to not feel self conscious again. Very happy! She did great and was super nice. Everyone was. I will be coming back.

when? September 14th 2014
For my first time being waxed (while pregnant) I thought everyone was wonderful! It definitely made up for any pain! I'll be coming back for any and all of my spa needs, and sending anyone I can :) Thank you for a great experience!

when? September 13th 2014
I really really like my esthetician! It was the first time I had her and she made the experience wonderful. The process for booking appts is very smooth as well!

when? September 8th 2014
This was probably the best massage I have ever had! She was great, listened carefully and paid attention to detail! I'll definitely be back :)

when? September 7th 2014
Pia's is AWESOME!!! Love you ladies!

when? September 7th 2014
very professional and friendly staff, warm and welcoming environment. A really good job on my eyebrows.

when? September 6th 2014
Entire process from booking until payment was easy and smooth. My facial was very relaxing and I saw and felt results instantly. The receptionist and my technician were friendly and professional. I will definitely be back.

when? September 5th 2014
Crystal S.
Winter Park Spa
Service was excellent, as usual. Front desk reception are always professional and friendly. My Esthetician is a rock star at what she does. Thanks to both for another great spa experience.

when? September 5th 2014
It was great like always! The service is always excellent!

when? September 2nd 2014
Rosetta P.
South Tampa Spa
I love coming here. Everyone is always professional and courteous. Thank you so much for all you do to make me comfortable, relaxed and happy whenever I come.

when? August 31st 2014
She was great: friendly and efficient. She explained everything to me beforehand. I told her I will never go anywhere else for waxing!

The front desk person was very attentive and friendly.

when? August 31st 2014
Courtney C.
South Tampa Spa
Such a wonderful experience! Everyone was great including the very nice young lady at the desk.. My esthetician was a true professional, and made me feel very comfortable during my wax..Which is huge plus for me. This was my second visit, my first visit wasn't great for me..but I'm really glad I gave Pia another chance. I will be back!

when? August 31st 2014
The best wax experience E.V.E.R.!!! It is such a pleasure to find people who love what they do and do what they love. My girl loves what she does and it shows! I feel very fortunate to have happened across Pia's ; )
Until my next visit,
Thank you!
Diane

when? August 28th 2014
My girl was great. I enjoy coming to her every time I go to Pia's.

when? August 28th 2014
I love everyone at Pia's. My esthetician, as always, did a phenomenal job. She reminded the last time I had visited I had just found a little dog, so I was happy to relay I had reunited him with his owner. These are the little things that make Pia's my go to spa. The staff is friendly and personable and they really listen to you when you are there. Thank you for letting me relax and dose off, I really needed the down time!

when? August 25th 2014
This is the absolute BEST wax I have had in seven years! The salon was so clean and professional and smelled like delicious lemongrass oil. My esthetician was so quick and gentle. It was almost painless and so perfect. She was sweet and easy to talk to, not boring. I loved my wax and won't be getting waxed by anyone, anywhere else! Thanks from me- and my boyfriend ;) ... see you in four weeks!


when? August 25th 2014
The experience over all was fantastic!

when? August 25th 2014
Wonderful experience, best massage I've had in a long time!

when? August 24th 2014
Fantastic as usual! Top notch professional staff. I've enjoyed very much being a Pia regular now for about a year; I will continue to be a regular because of such outstanding service : )

when? August 24th 2014
Really enjoyed the people and environment.

when? August 24th 2014
My eyebrows have never looked better. I was referred on a desperate search for getting great looking eyebrows. Thanks for making my eyebrows look amazing!

when? August 23rd 2014
Michelle I.
South Tampa Spa
The receptionist was welcoming and kind, she offered me a drink and told me about the product that was making the spa smell so delicious after I commented on it.

My esthetician was wonderful, my brows haven't looked this good in ages! She explained to me what I needed to do in order to have them begin to grow in properly (from a waxing experience gone wrong while I was still living in DC). I will come see her again for sure.

Overall a wonderful experience from start to finish, I felt relaxed when I left and that's not usually how I feel after a wax :)

when? August 23rd 2014
Marianne M.
South Tampa Spa
My esthetician was wonderful! She was very friendly and very knowledgable. She answered all my questions and provided me with an amazing and relaxing facial. I will definitely be back and have already recommended her to a few friends of mine. This was my first time at Pias and it certainly exceeded my expectations.

when? August 23rd 2014
I wanted to say, I scheduled an appointment with one of the estheticians @3:50p on 08/21/2014. And, the receptionist was very good about everything. i had a doctor's appointment also on this day @ 3:15p. i didn't think i would make it to both. i cancelled the appointment with the esthetician. Then i saw i was able to make the appointment time. I called back to get that same appointment, luckily it was taken. HOWEVER, i called several through out the day asking for any earlier appointments. the receptionist was great, she remained professional and assisted each call pleasantly. I appreciated that, that made a difference. My esthetician did a great job as always.thank you

when? August 22nd 2014