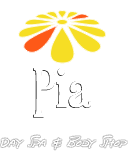 Shared Thoughts
My lady does a great job. Punctual, professional, friendly and fantastic at waxing.

when? February 25th 2015
I absolutely LOVE Pia's. My lady always gets the job done in a timely manner! I recommend her to anyone looking for waxing! They have great pricings and the staff is always very welcoming. I love the atmosphere.

when? February 24th 2015
I have been to the Pia's in Westchase and St. Pete, but this was my first time at the Winter Park location. As expected, my experience was wonderful! Love this place!

when? February 23rd 2015
My massage was very relaxing and soothing, and my nail tech was incredibly sweet! I loved the entire experience and was so happy with my time at Pia's. Even the receptionists I spoke with were so sweet and accommodating. My boyfriend got me a gift package for Valentine's, and I want to send him back for massage and the pampered experience! Thank you for an incredible day

when? February 22nd 2015
Its rare to find a place such as this: where the entire staff is committed to customer service & professionalism. But I found it at Pia's St Pete! Everyone was top notch here and really cared that I was given only the best of everything while I was there. Thank you to all the staff - who made me feel like a Queen for a day!!!

when? February 22nd 2015
Valerie T.
South Tampa Spa
I always get the best customer service at Pia in South Tampa. She was so great! Very sweet and professional. The only thing I highly recommend is to open a location in Brandon! There's a lot of places building up there and I think having a Pia in Brandon would be fantastic. Especially since I now live in Brandon too!

when? February 21st 2015
I love coming to pia spa in St.Pete to get my waxing done. The prices are affordable and I always feel comfortable. My girl does a very good job because she takes her time and I don't feel rushed. I will continue to come back!

when? February 19th 2015
My technician was fantastic. I felt so relaxed and comfortable during my entire facial, but the best part is my glowing skin. She somehow made some wrinkles disappear too!! I will recommend her to anyone who needs a great facial!

when? February 19th 2015
Waxing is not typically a pleasant experience, but I never have any complaints at Pia. They are very skilled but also personable and friendly. I wouldn't go anywhere else.

when? February 18th 2015
Wonderful. I love that my service was proficient, gentle and caring. I felt comfortable and relaxed during the entire service. This place deserves more than 5 stars. I recommend this establishment to the fullest for their wonderful service and staff.

when? February 18th 2015
I was warmly greeted at the front desk and asked if I needed a drink. When asked for water, although it was right in front of me, she kindly poured and handed to me.

The massage therapist was friendly and professional. He made me feel completely comfortable and relaxed and did a great job sticking to the pressure and areas communicated.

Thank you all for a great experience!

when? February 17th 2015
I am always greeted with a smile when I come into Pia. My lady is always efficient and does a beautiful job, she has great attention to detail and makes every customer feel special.

when? February 16th 2015
I came in on Valentines Morning and it was wonderful seeing everyone running around in such a happy mood.
My nail tech was the best!

when? February 15th 2015
My specialist was awesome! She knew it was my first time, so she explained everything to me. We talked the entire time which made it go by so fast. My husband loves it. I will definitely be back.

when? February 15th 2015
This was my first time at the South Tampa location. I moved from St. pete and was excited to learn Pia had a location so close to my new place, because they are simply the best! Same great service in South Tampa! I will be back soon!

when? February 15th 2015
Amazing service and attention from initial phone call to schedule, flexibility and availability of appointments offered, and services offered. Would highly recommend to others; in fact, I already have!

when? February 15th 2015
Always have great service at Pia. They are quick and professional. Esthetician was great!

when? February 14th 2015
My girl is always smiling and professional. She make getting waxed a pleasant experience!

when? February 11th 2015
My nail tech was great! How could I not like a fellow New Yorker with a soft spot in her heart for Chihuahuas! I'm glad I went with her recommendation for nail color. I always gravitate towards reds but I now am in love with Grapely Appreciated by OPI. Thank you Pia for hiring good people and for constantly investing in your spa. I absolutely love sinking down in those amazing leather chairs! Can't wait for my next visit.

when? February 11th 2015
I was extremely satisfied with the level of professionalism shown to me by both the receptionist and Esthetician. The receptionist greeted me upon arrival and was extremely courteous during my check-in. My Esthetician talked with me about what my expectations were and answered all questions before services were rendered. All in all I was very happy with my experience and will be back again!

when? February 11th 2015
I love this place! The staff is very nice and welcoming!

when? February 8th 2015
Awesome experience as usual! Love this entire staff!

when? February 8th 2015
My experience is always what I expect and more! From the welcoming, smiling face when I walk in the door to my waxing experience...I love that attention when I'm getting a service!

when? February 8th 2015
From scheduling to paying, my appointment at Pia's was a great experience! Friendly and very knowledgeable staff make you feel comfortable from the start of your appointment til you walk out.

when? February 7th 2015
I have been to Pia Westchase a few times in the past. but this last visit was EXCELLENT. Her attention to detail and quality of work done was wonderful! When I am able to come back for another visit I will definitely request to be with her. Not only did she do an amazing facial, she also suggested some skin care products at the end that were actually affordable

when? February 7th 2015
Great experience. Will be back next week.

when? February 7th 2015
I am always greeted with a friendly smile & never made to wait. I am so glad that I was referred to your salon

when? February 6th 2015
Michele A.
South Tampa Spa
The esthetician provided exceptional service. She always makes sure to communicate what I want and exceeds expectations with her service. As always, I receive compliments from friends and family after my visit. Thanks for doing a great job!

when? February 6th 2015
I am new to Winter Park and had a great experience at the spa. The receptionist was so very friendly, the waiting area was clean and smelled wonderful. The Esthetician that did my facial and I have to say that she should insure her hands! She not only made me feel so very relaxed, she was very thorough with the cleaning, exfoliation and massage. I love the fact that as my mask was on my face, she massaged my arms and legs. Awesome!!

when? February 4th 2015
Pia's is an exceptional day spa. And their late hours are so convenient!

when? February 4th 2015
Always a great experience! My lady is wonderful -- very fast, at makes the waxing as painless as possible. Highly recommend!

when? February 4th 2015
Excellent in all respects. Nice, professional people and a clean, welcoming environment. Consistently good services!

when? February 2nd 2015
I stopped in for a waxing and everyone was very accommodating and friendly. We just moved here from New Jersey so I've been looking for a place to get my waxing and I think this is it! Thank you!

when? January 30th 2015
I couldn't be happier with my latest visit. My Esthetician is simply the best!! And the front desk makes you feel like family. Wonderful people and a terrific staff!!

when? January 30th 2015
My girl always makes my visit fun and enjoyable. Her ability to give me a quick wax is amazing! She is always fun to talk to.
The front desk is also very sweet! She gives me a quick check in and quick check out!
I love Pia spa!

when? January 29th 2015