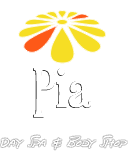 Eyebrows & Eyelashes
Tampa Bay's 10 News -
View Video
Univision (spanish) -
View Video
Pia Esthetics specializes on the beautiful art of enhancing your lashes and brows. We provide a wide variety of services to take care of this small but very important part of your face.

We can create the perfect eyebrow shape for your face; if your eyebrows are too light we can dye them first, choosing the best matching color for your type of skin and face followed by our precise eyebrow shaping. We have a very nice selection of brow powders from Glo minerals that will create a definition in case you decide to add more color on them. We can also dye your eyelashes dark black and you won't have to keep using mascara to go out or even better, when you work out! You can look always your best!
If your eyelashes are very straight we have the solution: we can perm them for you!! This safe procedure takes 45 minutes and the results last you for 6 weeks! It makes an amazing difference in your eyes!
For women with short eyelashes we can do eyelash extensions, like all movies stars are doing it now. That's why their ayes look always so perfect!
All these secrets that used to be exclusive for the famous are now in expert hands, available for you at Pia Esthetics.