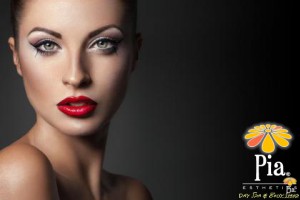 Want to look like a supermodel in your photos? Here at Pia's we not only love skin care but makeup too so I'm bringing easy beauty tricks to you to help you look glamorous in all your photos! Keep reading to learn how to get a flawless looking complexion, perfectly sculpted cheekbones, a gorgeous smile and lovely matte lips that will last for hours.
Flawless, Natural Complexion
This look is easier to create than you may think! The trick is in the application. You can use any foundation, from sheer to full-coverage, but to get a natural, airbrush-esque look you need to use a round foundation brush. The trick is in the bristles! They distribute the product much more evenly than your fingers and create a glowing, sheer effect. The technique is easy! Just apply a few drops to your forehead, cheeks, nose and chin and swirl away, making circular motions in an upward direction. Begin with your nose and slowly move out towards your cheeks, blending into your jaw and forehead for a flawless, beautiful finish!
Dewy, Ethereal Glow
Here's the trick: once you finish applying your makeup grab your moisturizer! Mix a small amount between your fingers and press lightly across your forehead, cheeks, nose and chin to create the illusion of a dewy glow. Just make sure to only press lightly, never rub the moisturizer in (otherwise you'll remove your makeup)!
High, Sculpted Cheekbones
Don't believe the hype! Contouring isn't as hard to master as you may think, nor does it require lots of products. An easy trick to get this look fast is to simply suck in your cheeks and grab an angled brush to sweep powder in the hollow area below your cheekbones. Then, grab a round brush to apply your foundation and blend the powder simultaneously. This trick gives your face the illusion of contouring, and since you're applying foundation on top of powder you can blend away any mistakes!
High Arches
You know me, I love bold brows! But, they can take a quick turn into bushy if you don't stick to a consistent waxing schedule. For quick touch-ups between appointments grab a brow brush and brush upwards. If you absolutely must, trim horizontally with a small brow scissor. Just be careful not to cut at an angle. Then grab your favorite brow pencil or gel and apply as needed. Remember, no tweezing, leave that to us pro's!
Matte Lips, Minus the Dryness
If you love the matte look but hate the dryness that many formulas include, you're in luck! Just take a trip to the nearest store and pick up a lip balm for men. That's right. These lip balms give you the hydration you need minus the shine. Apply that first and then your matte lipstick and I promise, your lips will stay hydrated and your lipstick won't crack or look shiny at all. Win-win!
Glamorous Smile
Ladies, you should always have a go-to red lipstick within reach! This color adds instant oomph and sexiness to any look, casual or dressy. It also brightens your smile in a flash! Just make sure to ask for help when choosing a red lipstick. A makeup artist will help you to pick one that compliments your specific skin tone and negate any discoloration in your teeth. Want an extra-glamorous smile? Use a teeth whitening treatment, like Crest Whitestripes, to brighten your teeth in just 3 days! Apply a red gloss over your red lipstick and revel in the attention you'll get!