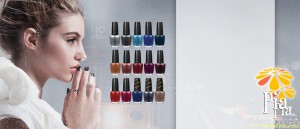 Autumn is finally here and it's time to update your nails with the newest trends of the season. This year's catwalks specified that autumn and winter nails must be impeccably groomed regardless of which color, shape or texture you choose. Whether your wardrobe is edgy, glam or ladylike it's a wise choice to match your nails to your accessories and makeup. Read on to discover the trendiest colors, shapes and styles to flaunt this holiday season.
Nail Colors
Retro Red
You're sure to see a return to red this season. This classic shade oozes glamor and ladylike luxury, particularly when you mirror it to your lipstick and wardrobe. Brilliant shades of red were seen all over the runway this season, especially at Valentino, more often than not matched to the model's lips!
Very Berry
Inspired by Burberry's runway, deep berries and wine inspired polishes are key colors this season for both nails and lips. Both dark and soft, creamy berry shades were seen on the catwalks.
Noir
Black certainly cast a spell on the runways this season however, dark, moodier hues inspired by the earth and sky did as well. Think midnight blues and earthy neutrals such as moss and pewter. Pair these hues with a deep lip stain for a dark, enchanting look.
Nail Shapes
Stylishly Short
Seen exclusively on the Dolce & Gabbana runway and trending now. Simple, short and squared nails with rounded corners sans color ie. nude and naked are often thought of as a summer look, however this holiday season they are in style! When inspired to go for this shape make sure to ask for extra shine for a glamorously glossy look.
Long and Slender
If you're not into the short and squared shape try updating your longer, rounded nails for something sharper! A trendy new shape seen on some of the edgier runways is a more vampish style, very long and very pointed.
Nail Art-Texture
This season it is easier than ever to nail nail art! Glitter, metallic, sparkles and crystal appliques are all the rage if you're looking to stand out! Try these creative textures for a change; they come in a variety of shades to complement your unique look this season.