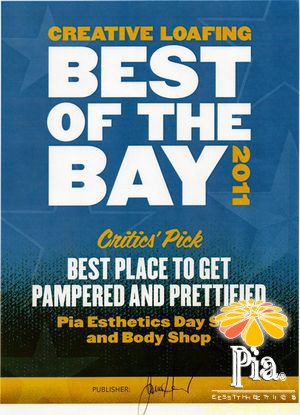 From Creative Loafing:
BEST PLACE TO GET PAMPERED AND PRETTIFIED
Pia Esthetics Day Spa and Body Shop
Big girls, thin girls, punk girls – and guys – you're all treated like royalty at Pia Trujillo's comfy and clean salon. Get a waxing made painless by their "no-scream cream" and service with TLC from Pia's trained professionals. Other services include full-body scrubs (ooh), mani/pedis, microderm abrasion, eyelash lengthening and massage (double ooh).Locations in South Tampa, 813-831-2418; Winter Park, 407-767-7100; Westchase, 813-854-6424, and St. Petersburg, 727-346-6740; bypia.com .