Did you know About Pia's Newest Service in South Tampa? Threading
Eyebrow waxing is our top rated hair removal service, however, we listen to your feedback and realized; it was time for a different option for those afraid of trying wax! Because you asked for it – Our South Tampa location is now offering threading!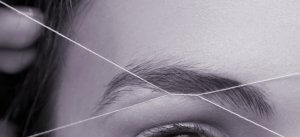 About Threading
In case you are not familiar with this procedure, just like waxing, threading it's an ancient hair-removal technique. It works by taking a thin cotton threat and twisting in into a double strand. Along with rhythmic hand movement used by our expertise, the hair is secured in the threat and lifted from the root.
This fast and 100% natural hair-removal method is recommended for people with sensitive skin and those who breakout easily. Just like waxing, it also makes your hair thinner and easily to remove overtime. Needless to say, eyebrow threading is a MUST!
Click here to book your next hair-removal appointment at Pia Day Spa.
Eyebrow Threading in Tampa: At Pia Esthetics Day Spa