How to Give The Skin on Your Chest and Back Some Extra Love This Summer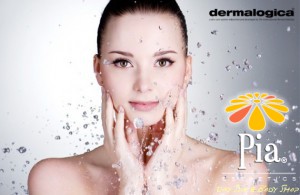 It's that time of year again, the sun is shining and the beach is calling. Its summertime, the time of the year when everyone is showing a lot more skin. While most people are pretty conscientious about caring for their face, many never think twice about their chest and back, areas that truly need extra attention. This two-part series will share tips on how to keep your chest and back looking young, radiant and healthy. Read on to discover how to start protecting your chest today.
Exfoliate Often
The skin on your chest is much less sensitive than the skin on your face, so it is okay to exfoliate more often. We recommend using MultiVitamin Thermafoliant twice a week in the shower to remove any sun-damaged skin cells. In addition to that a peel or masque such as Dermalogica's MultiVitamin Power Recovery Masque can be applied once a week to both intensify and enhance the results from exfoliant. Just make sure to avoid exfoliating 24 hours after sun exposure since your skin needs some recovery time after a long day in the sun.
Schedule a Professional Treatment
If your chest is in need of some extra attention simply schedule a facial and let one of our estheticians professionally cleanse, exfoliate and treat your chest. You'll leave with both a noticeably fresher face and a smoother, more even-toned neck and chest.
Apply an SPF Daily
It is essential to wear sunscreen daily. While most people know the importance of applying sunscreen to their face every day many people forget to extend this coverage to their neck and chest. Remember, the effectiveness of your sunscreen is dependent on how generously you apply it to your skin, so apply a lot and reapply it often for the best protection. This is particularly important during the summer months when we're wearing less clothing and sweating much more often.
Hydrate with an Anti-Aging Product
Just like your face, the skin on your chest is prone to damage. This means that your chest can also benefit from a skin-plumping, antioxidant-boosting product. For best results smooth an anti-aging moisturizer on your chest after applying an anti-aging serum. Our top picks are Dermalogica's Overnight Repair Serum and Dynamic Skin Recovery Moisturizer.
Giving your chest some extra love during the summer months will not only make you feel more confident when you bare your skin, it will also make for healthier, more radiant-looking skin! Check back next week for part two of this series to discover how to care for and protect the skin on your back and shoulders.