Achieving your dream eyebrows is easier than ever, thanks to microblading. If your natural eyebrows are not as thick, tinted, or symmetrical as you would like, microblading can help you achieve the look you are going for. Microblading involves the application of pigments to the eyebrow area. These pigments are applied into the skin deep enough to last for years, but not deep enough that they are permanent. If you're the type of person who likes to keep up with eyebrow trends, or you don't want to commit to one eyebrow shape for the rest of your life, microblading is an excellent option for you.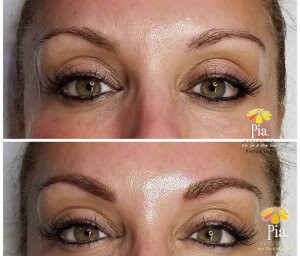 A professional microblading artist can help you achieve your dream brows. An artist knows what brow shape is most flattering for your face shape. They can also help you pick the perfect tint to compliment your skin tone and hair color. You can go into your appointment with an idea of what you want, but don't be afraid to ask your artist for recommendations.
The microblading process is quick and easy. A professional artist uses a tiny blade, with even tinier blades on that blade, to apply hair-like strokes of pigment to your brow area. These strokes resemble your natural hairs, so people may not be able to tell that your brows are microbladed! Microblading enhances the appearance of your brows. Microblading can fill in any gaps in your natural brows. Microblading can also shape your brows in a more flattering way that compliments your face shape.
You can save time and money when you opt for microblading. Unlike tinting which you have to re-do as the months go by, microblading lasts for years. Additionally, with microblading, you do not have to draw on your eyebrows with makeup products every single morning. Instead, you can wake up with your dream brows every single day.
Interested in microblading? If so, visit Pia Esthetics Day Spa!