Dull, Dry, or Irritated Skin? There's a Mask for That!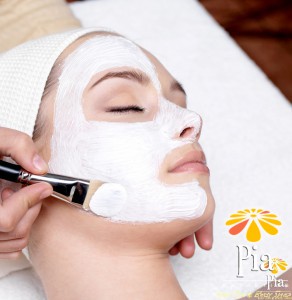 Facial masks feel amazing and, if you're in a playful mood, can make for a hilarious selfie (wink, wink)! But more than that, they're ingredient-rich superstars. Masks can fix a lot of problems (at least temporarily). Trust me, I recommend them to everyone, which is why I'm writing about them today! It's November, the time of year when the days are shorter and much cooler here in Florida, creating a perfect storm for skin issues to appear. Who wouldn't want to go home after a long day and relax with a calming mask? Whether you skin is dull, dry or irritated by this season's crisp air I've got a mask for you!
Dullness
Lifeless skin needs a kick of exfoliation from a lactic and hydroxy acid mask. An exfoliating mask is a quick and easy way to brighten your skin in just a matter of minutes! I love Dermalogica's Gentle Cream Exfoliant because it's a super-smoothing mask. This Lactic and Hydroxy Acid exfoliating mask is dramatically skin smoothing. You'll see the results instantly, no joke! Its non-abrasive exfoliating ingredients help stimulate skin renewal to improve your skin texture immediately.
Dryness
Not all masks are created equal. For a serious dose of hydration, try my favorite mask, Dermalogica's Multivitamin Power Recovery Masque. This nutrient-rich rescue, ultra-replenishing mask helps rescue dry, stressed and aging skin. It's a revitalizing mask that contains powerful, concentrated vitamins (A, C, E and F) to help skin recover from damage, increase elasticity and moisture. It is the ultimate remedy for dull, dry, dehydrated, lackluster, photo-damaged skin. This mask is by far my fav! You can't go wrong here, it's truly an all in one fix!
Irritation
Masks with a cooling effect can soothe flushed, irritated skin and even skin conditions like rosacea. But what you may not know is that these gems can cure redness fast, if you stick it in the fridge before applying it! Dermalogica's Skin Hydrating Masque does just what it says. This refreshing, cooling gel mask soothes and moisturizes to remedy dry, stressed skin. It also helps stimulate your skin's outer layer to restore the protective barrier, pumping up moisture levels for healthier, smoother skin. Remember, you can use it as directed or pop it in the fridge first for a doubly soothing effect!
With autumn in the air, these masques are sure to improve your skin's appearance and make it feel a lot better in just minutes! Just apply, sit back and relax while the ingredients work their magic and viola, you'll discover your naturally glowing, radiant skin once again!