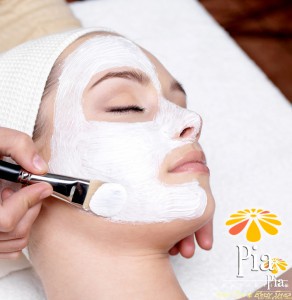 The holidays are here and it's the time of year when everyone wants to look and feel their best while gathering for the season's parties. If you've been searching for the perfect gift look no further and give your loved one the gift of a facial! Facials are a gift that anyone, male and female alike, will enjoy. They are not only very relaxing but also leave the skin positively glowing! All of our estheticians are highly trained to take care of your loved one's skin. Read on to discover the steps involved in a facial.
Cleanse
Our estheticians begin each facial with a gentle, yet thorough cleanse to remove any makeup, dirt and excess oil.
Skin Analysis
Next they will look very closely at the skin to conduct a skin care consultation. They analyze the skin to determine whether it's dry, oily, sensitive, aging, or acne prone and customize your loved one's facial to their skin's specific needs.
Steam
Steam is often used facials to promote relaxation and to open the pores, helping to loosen any blackheads or whiteheads that need to be extracted.
Exfoliation
Depending on your loved one's skin type our estheticians will incorporate either a physical or chemical exfoliant into their facial. Exfoliation gently removes dead skin cells revealing brighter, fresher, glowing skin.
Extractions
If your loved one has acne our estheticians are trained to gently remove blackheads and whiteheads to reveal clearer, healthier looking skin.
Facial Massage
This is one of the most relaxing steps in a facial! The esthetician uses soothing massage strokes to massage your loved one's face, promoting both relaxation and stimulation of the facial skin and muscles.
Mask
Depending on your loved one's skin type the esthetician will apply a mask customized to their skin. After the mask is applied the esthetician will incorporate further massage, of the scalp, hands and feet!
Serums, Moisturizer and Sunscreen
After removing the mask the esthetician will apply a serum if needed as well as a moisturizer and sunscreen to protect your loved one's skin.
Skin Care Suggestions
Once the facial ends our estheticians will happily recommend at home skin care tips to your loved ones as well as skin care products from our Dermalogica line to help keep your loved one's skin looking and feeling beautiful so they can continue to look and feel their best not only through this holiday season but throughout the whole year!
To purchase a facial for your loved this holiday season please stop in to any of our four locations to pick up a gift certificate or alternately you may purchase one online. Happy holidays!