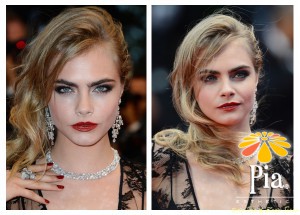 Most women can agree that they strive for some semblance of symmetry when it comes to their eyebrows. A simple search on social media sites, such as Instagram, for the hashtag #eyebrow reveals over one million hits. Similarly, on Pinterest, the same search reveals images of famous celebrities, such as Camila Belle, Lily Collins and Cara Delevingne, noted for their amazing eyebrows. Want to discover how you can get the same, strong, defined brows as the celebrities mentioned above? Read on to discover how to in 3 easy steps!
The three steps to achieving beautiful, bold brows include the following: brow pencil, brow powder and brow gel. However, before your makeup comes into play you must first address your brow's shape.
Ultimately, you want to aim for symmetry and attractive angles. To get this look first determine where the inner edge of your brow should begin. Simply grab a pencil and line it up vertically with the edge of your nose. To find out where your brow should end, tilt the pencil so the bottom end remains at your nose but the top end angles out to meet the outside corner of your eye. Got it? Great,  now you can grab your makeup!
1. Pencil
Begin with an eyebrow pencil and fill in any sparse areas by drawing short, soft lines in the direction of your hair's growth. For example, draw upwards near the inner corner of your brows and across and down as you move toward the tips. After you've done that, use the pencil's brush to lightly sweep the hairs and soften any hard lines.
2. Powder
Next, take an angled brush and your eyebrow power palette and apply powder in light strokes on top of the pencil. The powder works to set the look, making it last all day (and night). A multi-shade palette is always a smart choice, allowing you to customize the shades to get your perfect look. It's also a wise choice because the trick to a perfect brow is to use a lighter shade on the inner brow and a darker shade on the arch and tips.
3. Gel
Once you've applied your powder over your pencil grab you brow gel and apply it in the direction of your natural hair growth. The newest brow gels contain mini fibres, like those found in mascara, that stick to your hair. These fibres help to create the look of thick, lush arches.
Once you're all done take a peak in the mirror. What you'll find is stronger, bolder, more defined brows! Perfectly shaped and beautiful, just like that of the celebrity brows you love.