How to Get Glowing Skin, Before and After the Gym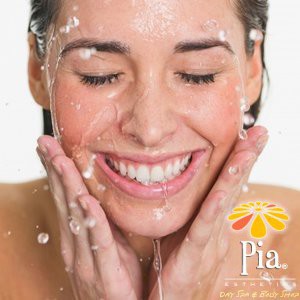 By now I'm sure you've got your AM and PM skin care routine down to a science, which is great! However, I've been getting a lot of blank stares when I've asked clients about their skin care routine before and after exercising. If you exercise regularly, please keep reading. There's a lot you need to know about how to make sure your skin stays healthy and gorgeous pre and post workouts!
First and foremost, even though we all want to look our absolute best at the gym, I can't stress enough just how important it is to remove your makeup before you break a sweat. Taking just a few minutes to remove your makeup and cleanse your skin before your workout actually will make your skin glow, trust me! The reason being, when you wash your face before you exercise you're removing grimy bacteria, preventing future breakouts. Same goes for after your workout. This time, consider a gentle cleanser, such as Dermalogica's Special Cleansing Gel, to easily wipe away sweat, dirt and debris without stripping your natural skin barrier.
If your face (and body) are prone to acne simply wipe these areas with a cleansing towelette. Just remember to apply an oil-free moisturizer after! Also, we do live in the sunshine state so if you happen to exercise outside always apply sunscreen after your moisturizer.
Most importantly, always bathe post workout! As soon as you finish your workout immediately remove any sweaty clothes and lather up. Those clothes are a breeding ground for gross bacteria and yeast. If you don't take them off right away you're at risk of getting body acne and yeast infections. Who want's that? The sweat that your skin releases when you're working out flushes out all the impurities in your body, however, it can also flush out the moisturizing oils, making it feel dry. When you bathe, make sure to use a gentle body wash, that's moisturizing and turn the hot, steamy water way down. That only causes more dryness.
For those of you whose skin turns pink (or red) while working out, try splashing cool water on it after cleansing to reduce the redness. Also, my favorite hydrating mist, Dermalogica's UltraCalming Mist, works wonders to calm irritated skin, hydrating it with essential antioxidants.
If you need to apply makeup after your workout try skipping thick foundations and use a sheer, tinted moisturizer, such as Dermalogica's Sheer Tint Moisturizer instead! Pair that with a cheek stain, mascara and lip gloss and blow everyone away with your radiant post workout glow!
Keep these tips in mind before and after your future workouts and notice your skin as it becomes blemish-free and dewy fresh in no time!