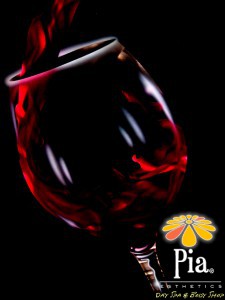 Nearly 16 million people are diagnosed with rosacea in the US. Rosacea is a vascular skin condition that appears as a red blush, or redness on the face. For many, the skin redness rosacea causes is the most concerning. It's often aggravated when exposed to extreme heat, irritating skin care products and just one alcoholic drink.
The symptoms of rosacea appears as little bumps on the surface of the skin that resemble blemishes but never clear up. It can also appear as visibly dilated capillaries, severe redness on the cheeks and nose, or a blush that is always present. While doctors don't know the exact cause of rosacea, it is often attributed to poor circulation, digestive disorders, a sluggish lymphatic system, and bacteria or mites. Rosacea is also very common among those with Irish, Scottish, English or Scandinavian heritage.
Triggers include sun exposure, extreme temperatures (hot and cold), hot showers, spicy foods, caffeine, alcohol, and cigarette smoke. Limiting or avoiding exposure to these triggers is the best way to keep the symptoms of rosacea from worsening.While the redness caused by rosacea can be alarming, it can be minimized with proper skin care. Keep reading to discover what you need to know about how to control rosacea.
Use Soothing Skin Care Products.
Since rosacea can cause someone to have hyper-sensitive skin, it is important that those with rosacea choose their products carefully. Soothing ingredients that help to calm and comfort the skin to reduce redness are most beneficial. Products that contain artificial fragrances are not as they can irritate the skin, causing flare-ups. Products found in Dermalogica's UltraCalming skincare line are highly suggested as they are designed to soothe the skin. The UltraCalming skin kit is a great starter kit for someone with rosacea or sensitized skin because it contains products to help relieve itching, redness, and reactive skin flare-ups associated with sensitive and sensitized skin. The kit contains UltraCalming Cleanser (a gentle cleansing cream), UltraCalming Mist (a soothing, cooling spritz), UltraCalming Serum Concentrate (a serum for sensitized skin), and Barrier Repair (a shielding, protective moisturizer).
Similarly, any product that contains the following ingredients will be beneficial to those with rosacea:
Sea whip: a soothing formula that contains anti-inflammatory benefits
Chamomile extract: provides anti-redness and anti-inflammatory benefits
Azulene extract: calms and soothes the skin
White tea: This natural antioxidant helps calm the skin by inhibiting reactive stress brought on by UV rays, tobacco smoke, and smog.
Avoid Excess Exfoliation.
Skin peels, AHAs (alpha hydroxy acids), retinols and microdermabrasion, while effective to smooth the skin also breaks down the protective outer layer, causing it to become red, inflamed and highly reactive in those with rosacea. Gentle exfoliation, with a physical exfoliant, just a couple times a week is a better option for someone with rosacea. Consult with any of our aestheticians to find out what level of exfoliation is most appropriate for your skin the next time you come in and ask about the Dermalogica products mentioned above to soothe your skin and reduce your redness in no time.