New Service: Cry Baby Mascara!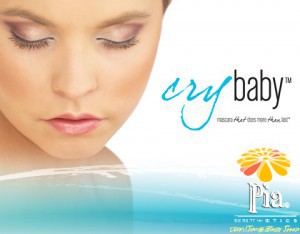 Let's face the facts. Eyelash tinting fades, extensions fall out and strip lashes are simply not easy to apply or water proof! Good news! We are now offering a new eyelash service that will give you the gorgeous lashes you desire at an affordable price minus all the above mentioned drawbacks of past eyelash enhancing services! This new service, called Cry Baby Semi-Permanent Mascara, curls and coats your lashes to add volume, length and color that last for weeks, with the added bonus of being both water and smudge proof.
This mascara is ideal for anyone with an active lifestyle as well as for special events. If you desire darker, thicker, fuller lashes that last for up to 2 weeks and are both water and smudge proof you're in luck! Cry Baby Mascara is revolutionary, semi-permanent mascara that is applied in approximately 30 minutes and lasts for 10-14 days.
This mascara is a great alternative to eyelash extensions for the busy woman who wants to enhance her lashes at a fraction of the time and price of eyelash extensions. As mentioned above, this mascara is also perfect for many events, such as parties, weddings, and vacations and can be applied the day of the event. Again, with proper care this mascara can last 2 weeks or longer. On average Cry Baby Mascara will thicken your natural lashes 30-50% as well as make them look up to 20-50% longer!
Why wait to try this new service? Call to schedule your appointment for Cry Baby Mascara application today and be on your way to the beach, gym or night out without the worry that your mascara will smudge or smear in no time!