The Secret to Long Lasting Nail Color
Ever seen yourself trapped in a busy week with bad nails? Having the time to go to a Nail Salon every week, it's a luxury not all of us can afford. Luckily for us, OPI solved this problem for us a while ago.
The Secret is named "Soak-off Gel lacquer", or simply known as Gel. It was first introduced by OPI and it's also known as Shellac, which is another leading nail brand by Creative Nail Design. Aside from all the formal introduction to a product most of us are familiar with, we wanted to take this space to let you know what makes Gel Manicure so special for Pia's.
Not Magic, Just Careful Process
For this procedure, your natural nails have to be carefully cleaned and primed. Unlike other artificial nail procedures like acrylics, there is no need for sculpting, filling nails nor any chemicals with strong smell. In Gel manicure, every layer of the applied polish are "cured" with UV light, making them last for good 2-3 weeks.
Once the color begins to lift by the second week, we highly recommend making an appointment to remove the gel instead of picking at it; By removing the color ourselves, you might be taking layers of your nails with it. Color removal takes only 15 minutes when done it professionally, and at Pia's we do it for free when you book your next Gel Manicure appointment.
There is nothing like freshly painted nails, and even better when they promise to last for a few weeks. So If you have a busy week coming up, or a bunch of events you want to have your nails pretty for, we assure you that Gel color will save you lots of time and money!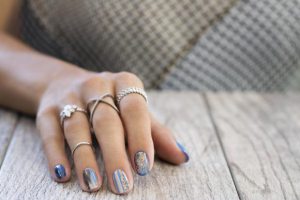 OPI makes it fun for us to pick a color, next time you stop by the spa try our Fall favorite OPI colors: A Grape Affair, A Good Man-Darin is Hard to Find or the gorgeous New Orleans Collection. (We also have other Gel Polish available: Schellac, Essi, china glaze)

NAIL TIP: For Keeping your nails long and hydrated, we recommend Multivitamin Hand and Nail Treatment by Dermalogica, available at your closest Pia's location and rated 5 stars online!