5 Easy Steps to Reapply Facial Sunscreen (and Keeping your Makeup)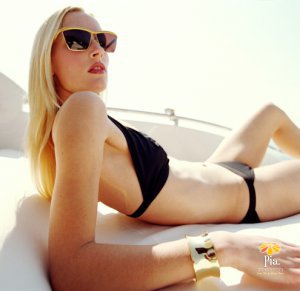 By now I'm sure you all apply an SPF every morning before you head out into the sun. What I wonder, however is how often, or rather, do you remember to reapply it several times throughout your day? More importantly, do you know how to do so without messing up your makeup?! If not, I totally get it! Slathering on a goopy layer of sunscreen over your meticulously applied makeup can seem intimidating at best! Who want's to risk smearing blush into bronzer and highlighter? While I get the reluctance, I must stress that, just like reapplying sunscreen to your body, it's just as important to reapply to your face. If not more so, considering premature skin aging occurs first on the delicate skin of our faces! I certainly don't want early wrinkles! Do you? If not, keep reading to learn simple application techniques so that you never have to sacrifice sun protection or flawless makeup again.
Step 1
When applying facial sunscreen make sure to apply it over your moisturizer. I recommend using at least a ½-1 teaspoon to fully cover your face and neck, preferably with Dermalogica's Redness Relief Primer, SPF 20, which smooths and strengthens the skin while physical sunscreen shields it from irritating UV rays. Alternately you could apply a moisturizer with SPF. A sheer, weightless version that I love is Dermalogica's Sheer Tint, SPF 20.
Step 2
If you opt to apply a facial sunscreen over your favorite moisturizer it's a smart idea to also apply a tinted moisturizer with an SPF on top of your sunscreen. This is especially true during the summer. Not only will your skin be twice protected, it will also smooth out your complexion! A true sunscreen is essential. An additional moisturizer spiked with SPF is ideal.
Step 3
Remember to apply sunscreen to your delicate eye area also! Dermalogica's Total Eye Care with SPF15 is a brightening, smoothing protective SPF eye cream that also conceals dark circles. Helping to reduce the appearance of puffiness and fine lines. Bonus, this chemical-free sunscreen helps to shield against further damage.
Step 4
Choose your makeup wisely! If you aren't already blending a luminizer over your SPF- packed foundation, try one out for an added layer of SPF protection. It gives your face a beautiful glow and smooths over creamy, liquid foundation so easily. Bonus, it's texture is the same as liquid foundation, making it a breeze to blend in throughout your day. This is much wiser than trying to apply a creamy sunscreen over a powder foundation which can cause your makeup to crack or worse yet, cake.
Step 5
If you want your makeup to stay looking radiant all day I recommend spraying a setting sunscreen over your face once you've applied all your makeup. What's better is these sprays can be tossed in your purse to be reapplied every two hours or so. Simply spray it evenly across your face and go! Just don't, I repeat, don't rub it in. These are designed to absorb into your skin, to avoid smearing your makeup. A very popular spray is Supergoop! Defense Refresh Setting Mist SPF 50. This rosemary-infused spray boosts UV defense with a quick coating of broad spectrum SPF 50 while setting makeup and minimizing unwanted shine with light-scattering silica particles.
Follow these steps to flawless makeup and SPF protection, all day every day. Just remember to thoroughly cleanse your skin at night before bed to remove all residue. With skin cancer rates rising, taking the steps above now can help prevent harmful sun damage and premature ageing later.