Why We LOVE Eyelash Lifts (and Why You Should Too!)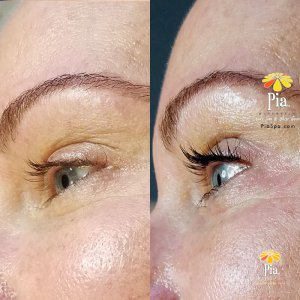 Tired of using an eyelash curler to create the look of gorgeous lashes each morning? Let us help! Our team of highly qualified Estheticians specialize in turning straight lashes into natural looking, upturned, full curly lashes in just minutes! An eyelash lift makes your lashes appear much longer than they truly are. Creating the look of beautiful lashes in an instant. It's also known as Eyelash Perm.
Why Should You Get An Eyelash Lift?
Take a look around and compare those with straight lashes to those with stunning curly, bountiful upturned lashes and ask yourself which look better? The answer will always be full, curly lashes. Not only do they look gorgeous, they create an illusion of seduction, giving you that wide-eyed doe look we all crave. Bonus, this look lasts for weeks! An eyelash lift makes your life easier too, no more struggling with the eyelash wand every morning to get the look you desire, robbing you of time. Let our professionals do the work, saving you the hassle and time.
Eyelash Lift: Step by Step.
First, our estheticians apply an adhesive to your lashes. Next, they wrap them around mini foam rollers to begin to create the curl. They'll ask you to squeeze your eyes shut so they can apply a solution with a lash brush, allowing them to fully absorb the curling crème while you lay back and relax. Once the lift solution has done its job they apply a neutralizer while you continue to relax for a few more minutes. Viola! Your lashes are revealed, and look incredible. All in less than 30 minutes!
What's Next? Schedule A Follow Up!
Your newly curled eyelashes will stay full and curly for approximately 4-8 weeks. As your lashes grow and fall out (between 60-120 days) you'll begin to notice it's time for a touch up. Simply call us and schedule one, if you haven't already pre-booked your next appointment. Trust me, permed eyelashes are worth every cent, so toss that eyelash curler in the trash and call us to schedule an Eyelash Lift. The results are truly breath-taking!
---
More Resources:
We Got Eyelash Lifts And Our Lashes Looked Insane
I got a lash lift and it blew my mind.
These Before-And-After 'Eyelash Lift' Photos Will Give You Serious Lash Envy
How a Lash Lift Changed My Life
How does a lash lift work? We put it to the test