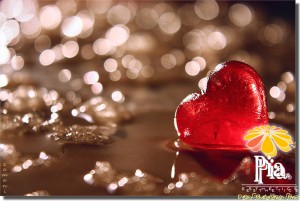 Valentine's Day is the perfect time to unleash your inner bombshell with a hot new look! Where to begin? Read on to discover 6 beauty tips that will instantly boost your wow factor and confidence for an evening full of love and romance.
1. Perfect Your Pout: Rock Some Red!
Bold red lip color is nothing to fear, especially on Valentine's Day! Punch up your pout with a sexy crimson shade, like GloMinerals Poppy Lip Gloss that is sure to be noticed. Keep in mind that it is wintertime so it's wise to exfoliate your lips the night before you apply this gloss with a simple natural remedy of brown sugar and honey. Follow with Dermalogica's hydrating Renewal Lip Complex and wake up to softer, more kissable lips. Before applying your lip color make sure to line your pout with GloMinerals Precise Micro Lip Liner to create a barrier to hold the lip color in place.
2. Maximize Your Lashes
Transform thin, short lashes into full, long lush lashes with a coat of GloMinerals  Lash Lengthening or Lash Boosting mascara. These mascaras are formulated with nutrients to help your lashes grow to their longest length while also volumizing, thickening, strengthening and conditioning them for long-lasting, bold lashes you'll love!
3. Get Cheeky
Give your cheeks a beautiful glow to re-create a first date flush! When choosing a color look for one that's a shade darker than your go-to everyday hue. Nothing screams provocative than an irresistible rosy glow so sweep on GloMinerals high pigment mineral makeup blush for a perfect flush.
4. Shimmer All Over
Want silky, touchable skin this Valentine's Day? Exfoliate with a Pure Fiji Sugar Rub to slough away dead skin for a beautifully smooth glow. Choose from a variety of scents to use in the tub or schedule a Pure Fiji Sugar Scrub here at the Spa! In just 60 minutes you will leave with skin that feels ultimately clean, conditioned and hydrated. Bonus, your mind and body will feel blissfully rested and relaxed for you romantic evening with your loved one.
5. Spritz on a Sensual Scent
Choose from a variety of Pure Fiji's Hydrating Body Mists for an ultra-romantic effect. Popular scents for Valentine's Day include Passion Flower, Island Bliss and Coconut Milk and Honey. Remember to spray on your pulse points (wrists, inner elbows, behind your ears) for maximum results.
6. Book a Mani and Pedi
Schedule an appointment the day before Valentine's Day to prepare for your date. Naturally, red or pink polish is perfect for Valentine's Day. However, don't be afraid to experiment with other shades including nudes and metallic as well as accent nails, which are very trendy this year.
Whether you have a special date this Valentine's Day or are celebrating with your friends make sure to follow these beauty tips to make an impression no-one will miss!
#valentines #valentinesday #valentinesdayideas #massage #couplesmassage