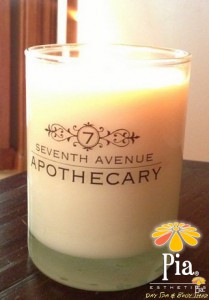 We are pleased to announce that we now carry a delightful variety of 100% pure soy candles. These luxurious hand-crafted candles are poured here in Tampa, Florida in the historic Ybor City by two local girls whom recently began the very successful Seventh Avenue Apothecary. They take considerable pride in creating scents that are reminiscent of the historical, cultural and culinary legacy of Ybor City and our own Cuban and Italian heritage. These fragrant and stylish soy candles are a blend of all natural fragrance and soy wax and are free of dyes creating a beautiful flame with their all natural cotton wicks. The distinct scents we carry include:
Lemongrass, created solely for Pia Esthetics Day Spa and inspired by Pia's signature lemongrass oil you smell burning in each of our Spas
Bergamot + Black Tea
Blood Orange + Grapefruit
Espresso + Dark Chocolate
Mango + Mint
Herb + Olive
Kumquat + Clove
Spanish Lavender + Bamboo
Spiced Rum + Coconut (The Gasparilla)
Strawberry + Tomato Leaf
Tobacco + Vanilla Bourbon
Tuscan Cypress + Fig
To enjoy these amazing candles please remember the following important tips to ensure they last to their fullest extent.
When lighting for the first time make sure to allow time for the wax to melt all the way to the sides of the glass to maximize your candle's scent.
Always trim the wick before relighting so it's approximately ¼ inch to prevent soot from forming.
Burn your candle for approximately one hour at a time to prevent it from burning away too quickly so you can enjoy it for a very long time!

Clean Burning, No Mess.