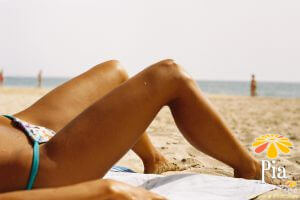 Summer is here and as much as we would all love to have the perfect golden tan, proper skin care is essential to preserving healthy skin and protecting yourself from what the hot and humid Summer months bring with it. At Pia's we take skin care seriously, that's why after every facial we love to recommend the best products tailored to fit our clients depending on their skin texture and their main concern. If you ask any professional what the secret to beautiful skin is, sunscreen will be on the top list. We proudly offer a variety of Dermalogica products designed to fit your specific needs, because beauty comes in different textures.
Remember, Sunscreen protects you from:
UV damage

skin cancer

premature aging

wrinkles

sunburn and brown spots
Needless to say, Sunscreens are a must. Look at the chart below provided by Dermalogica and find out which sunscreen is right for you!
Don't hesitate to ask our professionals during your next visit about any product or concern about your skin care, we are here for you.