Volume lashes have come to step up our eyelash extension game- we promise you will love it.
Our professionally applied eyelash extensions have been part of our clients special dates and everyday look for years since we first introduced it in our Spa menu. The art of this service is that we work with your own lashes to come up with your desired look. However, many  customers tend to have scarce and fine eyelashes which can result in a look not as full and thick as we would prefer. Thankfully, Volume lashes were introduced into the American market in 2013 and has gained popularity for the dramatic, natural and beautiful look they provide.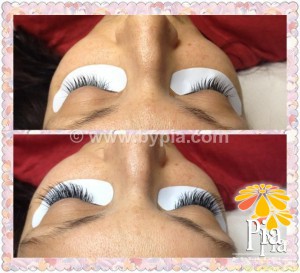 How does it work?
While the classic lash extension adds a single extension to your natural lash. Volume lashes can add from 2 to 8 extensions to a single natural lash. This customization depends on your desired look and the intensity you want to achieve with your lashes.
The application of 8 lash extensions into a single lash may sound dramatic. However, the success of this service has relied on how natural and delicate it still looks. Our licensed professionals passion is to come up with an aesthetic, natural and life changing look for you!
More Resources:
Classic vs. Volume Lashes
RUSSIAN VOLUME LASHES