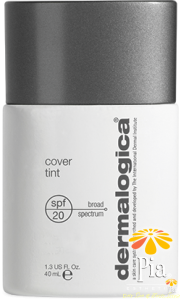 As spring approaches and the sun keep getting stronger our skin goes true changes. It's really important to incorporate a sun screen protection every day, you can add it alone or get a tinted moisturizer or a tinted foundation. Available in 3 shades
cover tint spf20
all skin conditions.
Creamy foundation delivers full coverage that lasts.
Natural, light-diffusing agents and Iron Oxides balance skin tone and soften fine lines while Broad Spectrum sunscreens help protect against damaging UV rays. Hydrolyzed Pearl and extracts of Ginseng, Purslane and Centella help firm and smooth the skin while marine extracts hydrate skin to minimize fine lines and provide an even finish. Formulated without artificial fragrances and colors.

sheer tint spf20
all skin conditions.
Lightly-tinted moisturizer provides an all-day sheer wash of color.
Natural, light-diffusing Iron Oxides provide translucent color for radiant skin, while Broad Spectrum sunscreens shield against damaging UV rays. Hydrolyzed Pearl amino acids, hydrating Hyaluronic Acid and antioxidant Walnut Seed extracts help improve
skin texture and reduce the appearance of fine dehydration lines. Formulated without artificial fragrances and colors. Available in 3 shades