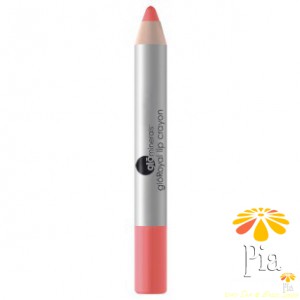 Royal lip Crayon
A crayon-inspired, chunky pencil that shades the lips with a moisture rich, long-lasting sheer gloss, and has the precision of a pencil. These sharpen-able crayons are available in five gorgeous shades.
Benefits
This convenient and precise pencil provides both color and protection with glominerals' signature formula of plant-derived phytosterol ester and antioxidant blend of vitamins A, C and E, along with natural UV protection.
Directions
Wear it alone for a soft shine or apply it on top of any glominerals lipstick to flaunt a maximum glossy finish.
Expert Tips & Techniques
For extra long-lasting lip color, fill in the entire lip using Precision Lip Pencil under Royal Lip Crayon – it will accentuate the mouth and give off a subtle, beautiful shine.