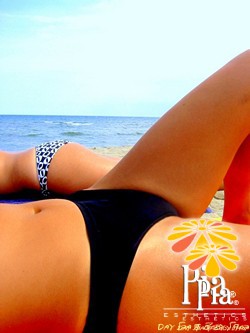 Who couldn't use an extra day to get done all you need for spring break? One more day in February gives us a chance to prepare for our vaca- or stay-cation.
Now is the time to leap into your nearby Pia's to take…it…off! Of course we're talking about the hair in places you don't want! (What did you think we meant!?) Get that bikini area ready to show off in your favorite bathing suit. Our experts make waxing an art form. In fact, we're award winning!
Just make sure before you schedule your treatment, you haven't shaved the area for at least two weeks. This isn't just for skinny-minnies! Pregnant and overweight clients, don't worry. Waxing is safe. It's effective for any ethnicity. You may feel more sensitive if you're taking Accutane. Clients on blood thinners may bruise easier.
Choose bikini, Brazilian or completely bare. We also do legs, underarms, face, and backs (ahem…gentlemen…) Come take it off at Pia's!