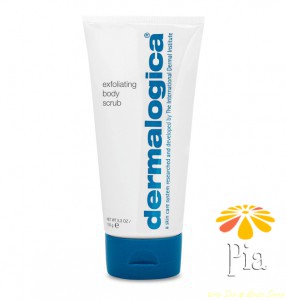 Is your current body scrub not exfoliating as well as it used to? If so we are excited to tell you all about the new Dermalogica Body Scrub we now carry, the Exfoliating Body Scrub. This scrub is intended to be used all over your body, from head to toe (minus your face of course) to reveal smoother feeling, fresher looking skin immediately.
The Exfoliating Body Scrub is a creamy, lightly-foaming scrub that is perfect for all skin types. It simultaneously smooth's your skin and energizes your senses for a look and feel that will not go unnoticed. It is also excellent at polishing away those rough spots on your elbows, knees, heels and backs of arms. The Exfoliating Body Scrub preps your skin for maximum absorption of your prescribed Dermalogica body moisturizer. It contains Papaya enzymes to stimulate your skin as well as Rice Bran, Olive, Fig and Date seeds to soften your skin. As mentioned above, it's a delight for your senses, as it contains Lavender, Orange, Sandalwood, Rosemary and Patchouli essential oils to soothe your body and invigorate your mind.
Benefits
Lifts dulling debris to smooth and even out skin.
Prepares skin for maximum hydration from Dermalogica body moisturizers.
Stimulates cell renewal while giving skin a fresh new feel.
How To Use
Squeeze a generous amount into wet hands. Massage over entire body and work into a light lather. Rinse thoroughly and pat dry. Follow with Body Hydrating Cream or UltraRich Body Cream.
Quick Tip
Mix with Conditioning Body Wash for a skin-polishing cleanse!
As always, you can feel ease of mind using any of our Dermalogica products because they're formulated without artificial fragrances and colors. Stop into any of our 4 locations to purchase this new body exfoliant so you too can see and feel the benefits today!