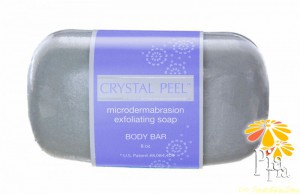 If you happen to already love the original Crystal Peel exfoliating soap you're sure to fall head over heels in love with the new lavender scented Crystal Peel soap we now carry! This soap boasts all the benefits of the original soap with the added benefit of relaxation inducing aromatherapy. This unique body soap is known to polish away dull, dry skin to reveal new, smoother, radiant skin. It's reaps many of the same benefits of a professional microdermabrasion but in the comfort of your own home. All you need to do is simply massage it into your skin while bathing!
While there are many benefits to this exfoliating soap they include more than smoother feeling, glowing skin. This soap is also clinically proven to naturally stimulate new collagen production to enhance your skin's elasticity all the while visibly diminishing cellulite, keratosis pilaris, folliculitis and skin discolorations. Immediately after using this soap your skin will feel revitalized and renewed. Imagine, all the benefits of a professional microdermabrasion can be achieved, in your next bath or shower!
The latest, lavender scented exfoliating soap, is infused with pure French lavender essential oil from Provence, creating a soothing, relaxing bathing experience. This delightfully scented body buffing soap is a fantastic alternative to a trip to the doctor's office for a professional microdermabrasion. Stop in soon to pick up your favorite exfoliating soap in our new lavender scent and quickly polish your way to beautiful, younger looking skin while the lavender aromatherapy lulls you into deep relaxation, melting your stress away.
DIRECTIONS
Massage gently into skin using circular motions.

Avoid contact with face. Rinse well in bath or shower.

Use daily!