New Product: Dermalogica PreCleanse Wipes!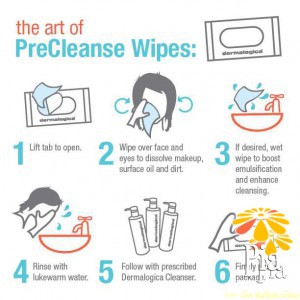 Would you like to keep your skin ultra clean and healthy on the go? If so, you'll love Dermalogica's new biodegradable, pre-moistened, disposable PreCleanse wipes! As a Dermalogica skin care product junkie I'm sure you already know that a double cleanse is the only way to go.
Morning and night, beginning your cleansing routine with PreCleanse is essential to maintaining clear, healthy skin. Each wipe is designed to melt away all the excess oil that your skin's produced as well as make-up (waterproof included), sunscreen and environmental pollutants. All you need to do is wet the wipe and gently massage it onto your skin and you're on your way to fresh, clean skin in no time! When mixed with water this wipe creates milky suds that easily wash away all the grime that's built up on your skin. Follow with your skin care consultant's prescribed cleanser to penetrate deeper for a squeaky clean, fresh complexion.
These wipes are formulated with Aloe and Apricot oil, two effective skin-softening ingredients, as well as conditioning ingredients Rice Bran and Vitamin E. This soothing blend of ingredients is safe to use to remove eye make-up as well, even waterproof mascara! No matter what your skin type, Dermalogica's new PreCleanse wipes are perfect for the on-the-go girl or guy who is searching for that perfect cleanser to fit their busy schedule, offering a deep cleanse for every skin type. Better yet, there are no artificial ingredients, colors or parabens in these wipes so you can be sure that they are safe for your delicate skin.
Benefits
Removes oils without clogging pores.
Conditioning ingredients nourish skin.
Allows your prescribed Dermalogica Cleanser to work more efficiently!
How to Use
Lift tab to open. Wipe over face and eyes to dissolve surface oil and dirt. Concentrate on areas of congestion or stubborn debris. If desired, wet wipe and continue massaging to create a light, milky emulsion. Rinse with lukewarm water. Follow with prescribed Dermalogica Cleanser for professional cleansing results. Firmly reseal package.
*Click on the picture above for visual step by step instructions. See, it's so easy to keep your complexion fresh, clean and clear! Stop into any of our four locations today to purchase these new PreCleanse wipes to toss in your on-the-go bag!