Pia Esthetics, Providing Commitment to Consistency
Published on 31 March 2012 in Business neighborhood news) – view online version
Alexis Selby (author)
Upbeat and cheerful, Pia Esthetics instantly brightens your day the moment you walk through their doors, as the friendly, attentive staff goes above and beyond to make you feel comfortable and welcome. Named after owner Pia Trujillo, who runs the spa alongside her husband Andres Hernandez, Pia Esthetics is locally owned-and-operated and provides both men and women with a great place to get pampered. Pia Esthetics is located in the heart of Westchase on Montague Street in West Park Village.
Pia and Andres, who are originally from Colombia, have been married for more than 15 years and have two wonderful children. Twelve years ago Andres and Pia decided to move their family to Florida to pursue "the American dream" and within no time they were well on their way to success. In the beginning Pia, who now has over 15 years of experience working in the spa industry and specializes in Brazilian waxing, decided to open up her own waxing studio from home and within six months was jam-packed full of clients. As word-of-mouth spread, and people talked of how great Pia's waxes were Pia became so busy that clients had to go on waiting lists that were over a month long. It was then that Andres and Pia decided it was time to open up their own spa, and thus Pia Esthetics was born.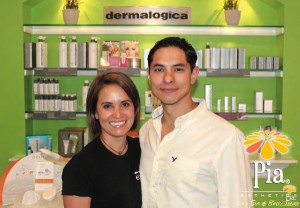 Pia and Andres opened their first location in South Tampa more than eight years ago, and since then have expanded throughout Florida to Winter Park, St. Petersburg and Westchase, which is celebrating its one year anniversary in their new location this month. Unique in design and unprecedented in comparison, one this is guaranteed no matter which location you visit, you will receive quality services at a very reasonable price, provided by expert technicians who have your best interest in mind. "Our whole approach is not selling the highest priced services," says Andres. "It is to give you what you really need."
"We want our customers to be happy," states Andres. "That is our main goal." Maintaining superior standards and ensuring customer satisfaction is of utmost importance at Pia Esthetics, which is why before being hired, all of their Estheticians are required to have many years of education and experience and are either trained by, or taught under the close supervision of Pia. Because of this, Pia Esthetics sustains extraordinary consistency across Estheticians and regardless of whom you are serviced by, you will always receive the same high-quality results. "We take pride in the training of our staff," states Pia.
Services
Pia Esthetics offers a wide array of services including waxing, skin care, eye brow shaping, eyelash extensions, massages, body treatments, spray tans and nail care.
Waxing
Waxing is one of the top expertise areas at Pia Esthetics and the Estheticians are highly trained in order to provide you with a smooth and flawless result every time you wax. Lasting anywhere from three to four weeks, waxing is a longer-lasting and more effective way of removing hair, as opposed to shaving and depilatories. In addition, waxing will also make your skin look beautiful and soft and can even help reduce hair growth. At Pia Esthetics you have the option of using either a liquid European wax or a hard wax. They offer full body waxes, as well lip, chin, brow, bikini area, arm, forearm, underarm and leg waxes.
Kim says, "This was my first time at Pia Esthetics and I am hooked. I had an amazing experience. This was by far the best wax I've ever had. Thanks to my technician who gave me some expert advice. I will be back soon!"
Skin Care
At Pia Esthetics they hand select the best treatments that will help you achieve optimum skin health and all their skin care services are specially customized to the individual needs of each and every client. Pia Esthetics offers facial care, which includes many different facial options, as well as microdermabrasion and microzone treatments (20 minute zone-targeted treatment solutions that address zone specific issues such as breakouts, congestion and even the need for exfoliation on your skin). They also offer full body treatments such as back facials, pure Fiji sugar scrubs and back exfoliations and massage.
Massages
Treat yourself to the ultimate spa experience with a calming massage, performed by one of the many expert masseuses at Pia Esthetics. Getting a massage is the perfect way to unwind and relax, and with the many varieties of massage that they have to offer, there is something for everybody. So take a break from your hectic schedule and visit Pia Esthetics today and let your worries slip away.
"The massage was the best ever," states David. "My masseuse went over and above. I can't wait to return and will recommend this spa and the recap was wonderful. This is one of the best spas my wife and I have ever been to. We have been to some fancy onesexpensive resorts but they do not compare with the wonderful, professional treatment we have received at Pia. Thank-you."
Spray Tans
If you are looking for a way to get a beautiful, sun-kissed glow without having to expose yourself to the harmful effects of the sun than I would highly recommend you get a spray tan at Pia Esthetics. Using the spray tan line Sun FX, no matter which shade tan you choose, you will be left with skin that looks natural, healthy, and luminous. I have never had a spray tan before, and after my previous visit I decided to give it a try. Pia was the one to spray me, and although it was my first time and I didn't know what to expect, she instantly made me feel comfortable and relaxed and within 15 minutes I left with a dazzling, natural-looking tan that earned me a great deal of compliments for weeks to come.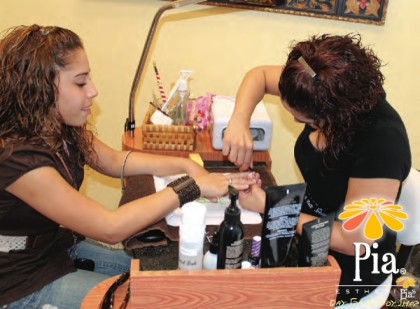 Andres says, "We want to be your day-to-day spa. Not just a spa you visit on special occasions." So don't wait, make an appointment today and get the pampering you need and the star quality treatment you deserve, at a spa that will give you a personable experience and quality results at a very reasonable price.
"As always, my experience at Pia's was first class," says happy customer, Mia. "Pia is one of the kindest people I've ever met and as a bonus she does an incredible job with my eyebrows. I have and will continue to recommend Pia's. Thank-you for all you do."
Pia Esthetics is located at 10116 Montague Street in Westchase (West Park Village). Hours are Tues. Fri. 9:00 a.m. – 8:00 p.m. and Sat. 9:00 a.m. – 6:30 p.m. Pia Esthetics is closed on Mon. and Sun. For more information, and other locations, please visit www.bypia.com or call (813) 854-6424.