The holiday season is here!
We're celebrating at all Pia's locations and we hope you join us!.
December 4th is the big day ?a customer appreciation party. You don't need an appointment, just stop by to enjoy goodie bags, a raffle, discounts on products, and refreshments.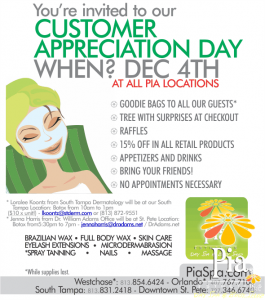 In South Tampa, Loralee Koontz from South Tampa Dermatology will provide Botox between 10am-1pm. She can help you erase the worry lines of crossing off that shopping list.
In St. Petersburg, clients will get to meet Jenna Harris from Dr. Williams Adams' office also for Botox between 530p-7p.
Our Winter Park clients, thank you for your generosity! Not only are we happy to host you on December 4th, we're still collecting toys for Toys for Tots and donations for the ASPCA. We'll give you 10% off every service, for every toy and donation you make from till December 18th.
So mark it on your calendars – it's on ours! – December 4th. See you Tuesday!