About Your Skin : Stop Spending – Start Investing
Being a Woman it's not Easy
Between makeup and other female hygiene products it's not a secret that being a woman it's neither an easy nor an inexpensive job. When it comes to makeup alone, a woman will spend an average of $15,000 in her lifetime. Makeup does not only cover small imperfections, like dark circles or acne, but also boosts us with a little more confidence – and we love it.
As our society it's becoming more conscious about skin health, makeup products are getting better within the years; implementing SPF on their foundations and using less harmful ingredients on their products. But there is a rule for using makeup that makes us think it still might not be so safe after all: Don't go to bed without taking it off.
The Real Price: According to dermatologists not taking your makeup off exposes your skin to free radicals that are in the environment which results in premature aging and additionally clogging the pores of your skin that ultimately causes acne.
Our advice: Invest in your Skin
We understand that when you are tired at night all you want to do is going to bed, but taking your makeup off takes only a couple of minutes and your skin would thank you for many years!. There are many products that makes taking makeup off easy and comfortable. At Pia's we offer a variety of skin cleansers and makeup removers.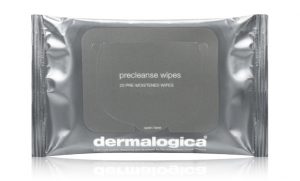 We recommend: Precleanse Wipes (Find it at the Spa $18), this biodegradable wipe melts away any waterproof makeup, removes oil without clogging pores and it's formulated with Vitamin E, Aloe and Apricot Oils. A Skin saver!
Follow us on the next article for more: Investing in your Skin Tips!