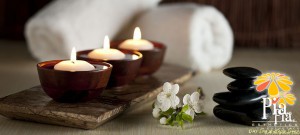 It's that time of year again, holiday season. The season of giving, making everyone's wishes come true, gratitude and selflessness. But what about you? Here at Pia's we know that most people are struggling to find time to just unwind this time of the year. So, we make it easy. Our relaxing spa services are designed to help you relieve built up tension, replenish your energy, calm your mind and revitalize your body. I promise, you are one facial, mani-pedi or massage away from total bliss. Below I've listed 4 reasons to treat yourself this holiday season.
Stress Relief. Studies prove that the holiday season is the most stressful time of the year for Americans. Want to relieve this? All it takes is 60 minutes! You can call us to schedule whatever helps you to relax the most. Forget about your to-do list and let our professionals release all those stress-fighting hormones.
You're Over-Doing It. Suddenly you're doing too much. Carrying heavy shopping bags full of gifts, stringing holiday ornaments and lights, hosting parties, cooking holiday feasts. Your brain and body are in overtime and you feel the effects in your muscles. It's perfectly normal, we're all prone to excess muscle fatigue this time of year. Call us to carve in some relaxation time to help your body to recover faster!
It's Rainy and Chilly. When the temperature outside drops your muscles react. By tightening. This happens to all of us. Those relaxed, warm muscles of summer months are long gone and little by little achy backs, hips, knees etc. creep up on us. Let our massage therapists relieve your pain. We offer many types of massages, from Swedish to Deep Tissue as well as Bamboo. Call us to schedule one and unwind your mind and muscles.
Truth: Spa breaks are not a luxury anymore. They're actually a preventative and practical treatment for stress. This is true for massage in particular since it actually helps to treat and prevent injuries and promote healing of any illnesses you may pick up during the season. Don't have time for a massage? Schedule a facial or pedicure and enjoy the head or foot massage instead!
Taking the time to unwind during the holiday season is so important to maintain balance, improve mood, and allow the body to de-stress. Our spa offers many options to help you achieve this balance, whether you need a whole body massage, a soothing mani-pedi or revitalizing facial, we've got you covered. Oh, and don't forget your friends and family too! Remember to ask us for a gift certificates for those on your list and spread the gift of relaxation around this season!