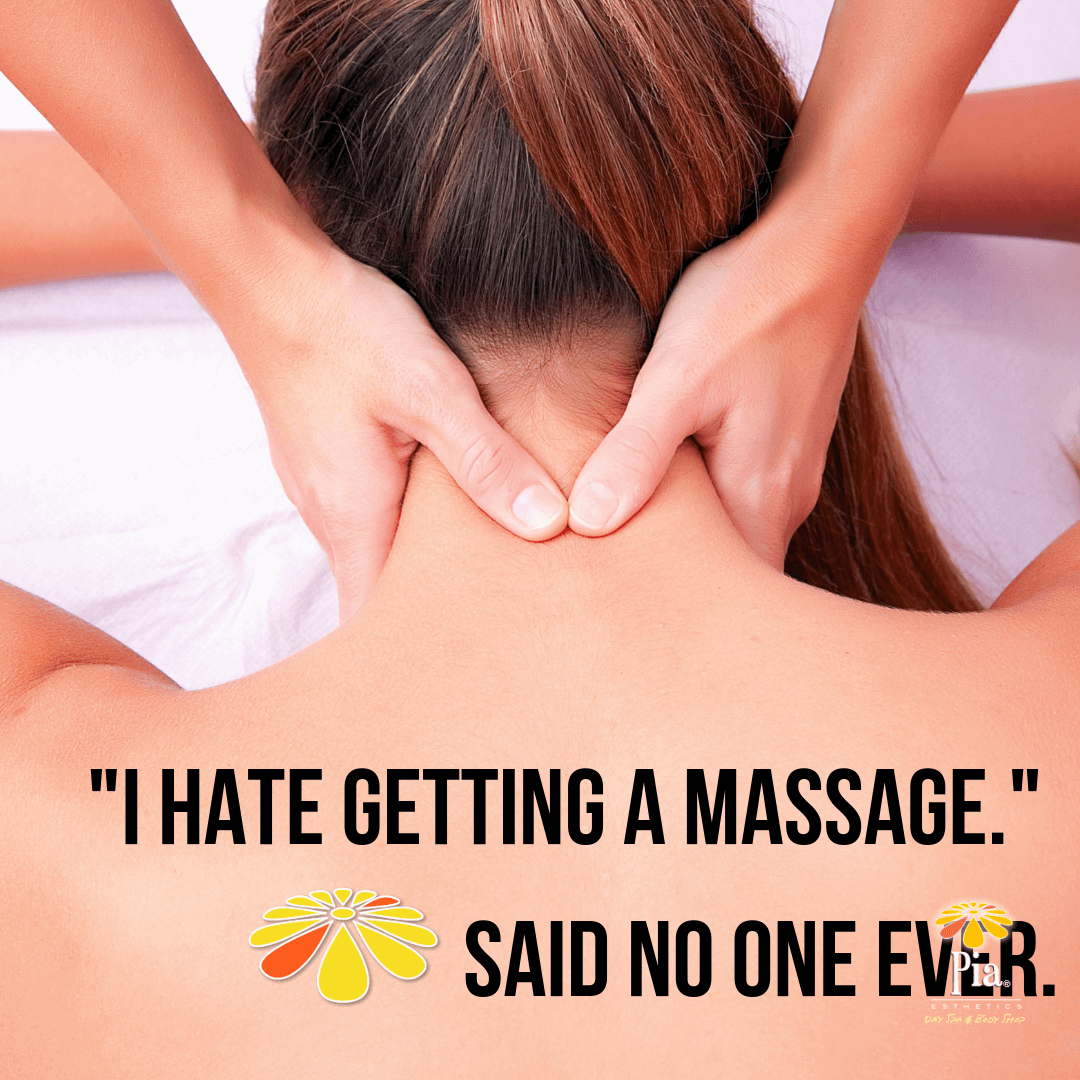 EVERYONE LOVES MASSAGES – WHY DON'T YOU GIFT ONE?
"I hate getting a massage." Said no one ever. 🤣 Massages are universally adored for their ability to melt away stress and rejuvenate the body. At Pia Esthetics Day Spa in Tampa and St. Petersburg, Florida, we've mastered the art of delivering the perfect massage experience. So, why not gift one to yourself or a loved one? 🎁
The Magic of a Good Massage
Let's face it: life can be a bit of a rollercoaster. 🎢 Between work, family, and the endless to-do lists, finding a moment of peace can feel like searching for a needle in a haystack. That's where we come in! A massage at Pia Esthetics Day Spa isn't just a treat; it's a mini-vacation for your body and mind. 🌴
Why Choose Pia Esthetics Day Spa?
Expertise and Experience: Since 2004, we've been the go-to spot in Tampa and St. Petersburg for top-notch massages. Our therapists are not just skilled; they're massage wizards! 🧙‍♀️✨
A Range of Options: Whether you're a Swedish massage enthusiast or a deep tissue devotee, we've got you covered. We even offer specialized massages to target specific needs. 🤗
The Perfect Ambiance: Our spa is designed to be your personal haven of relaxation. From the moment you step in, you'll feel the day's stress begin to dissolve. 🌸
What's So Great About Massages Anyway?
Apart from feeling like a hug for your muscles, massages have some pretty awesome benefits:
Stress Relief: It's like pressing a giant reset button on your stress levels. 🔄
Improved Circulation: Get that blood flowing and feel rejuvenated! 💓
Pain Relief: Say goodbye to those pesky aches and pains. 👋
Enhanced Well-being: It's not just your body that benefits; your mood gets a boost too! 😊
But Wait, There's More!
We're not just about massages. At Pia Esthetics Day Spa, we offer a whole range of services to make you feel and look amazing. From skincare to waxing and even eyebrow & eyelash care, we've got it all. And let's not forget our famous Brazilian wax – we brought it to Tampa back in 2004, and we've been rocking it ever since! 🌟
Ready to Book?
Don't just dream about relaxation; make it a reality! Contact us today at Pia Esthetics Day Spa or book online here. Your body (and mind) will thank you! 🙏
#piadayspa #dayspa #piateam #waxing #skincare #bestspa#westchasespa #stpetespa #southtampaspa