Sharing my love! About me, Pia, and my Spa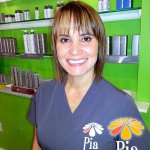 Hello, I'm so flattered and grateful that you're taking the time to stop by to read this! This is where I share my love for all things beauty and skin care so please check back often for updates and share what you love through social media to spread the word!
Everyday people ask me what my skin care and beauty secrets are, which is so flattering! This is the perfect place for me to write down and answer questions to all the things people ask me. What products I use, what products we use in the spa, what the spa treatments are, what's new in the spa, and essential skin care facts. I'm so excited that people like you love reading my blog and I am sincerely grateful that you continue to!
What I'm sharing today is so close to my heart. Just recently I was interviewed by ABC Action News to share my spa's success. I was so touched that they recognized me and my spa and I hope you all got a chance to see the interview! If not click here to watch it: here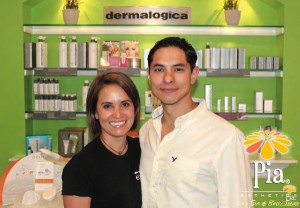 Around the same time Dermalogica's FITE foundation (financial independence through entrepreneurship) asked me to write about my success as a female entrepreneur to inspire and provide support for women worldwide who dream of owning a salon or spa. Again, I was so honored! Which is why I want to share my story here with you! If you know of anyone who would be inspired please share, empowering girls and women to reach their dreams makes me so happy.
My story:
My name is Pia Trujillo and I came to the United States from Cali, Colombia 14 years ago with my husband Andres and daughter Paula to pursue the "American Dream". In my case this dream was a career in the beauty industry! Coming to the US was pretty intimidating, but I'm so glad we took the risk because it has certainly paid off.
As it turned out, we had nothing to fear. We were very fortunate to find success very quickly. After 4 years of hard work I achieved my goal of opening my own business, the very first Pia Day Spa! It began when a friend introduced me to Dermalogica and I absolutely fell in love with their products! As an esthetician I really wanted to open my own spa but I didn't have the financial resources to start a business. So, I discussed my goals with my father and he lent me the money to open my own account with Dermalogica, giving me the opportunity of a lifetime. In no time my spa was open and I was paying him back!
The financial help that my father provided me at that time in my life was just what I needed to get my business up and running. This experience was invaluable to me and made me want to help other female entrepreneurs achieve similar success. I fully support women who wish to stand up for themselves and make a difference! I've been able to offer financial assistance to many of my spa's employees since. I've offered them loans to complete their educational goals, both towards degrees and advanced training. Their success makes me so happy!
Strong, determined women inspire me so much to continue on my entrepreneurial path. In just ten years Pia Day Spa has grown from one location to four! I'm continuously remind that dreams do come true. Following your dreams is well worth it, trust me! I strongly encourage you to recognize your unique potential and passions and to pursue your dreams. Your goals are attainable; all it takes is hard work and the support of those who believe in you!
I hope you loved reading this as much as I loved writing it!