Toe-tally Awesome Pedicures: 7 Health Reasons to Love Them at Pia's
Toe-tally Awesome Pedicures: 7 Health Reasons to Love Them at Pia Esthetics Day Spa 🦶✨
Hello, beauty enthusiasts! 😊 I'm here to talk about an often underrated part of our beauty routine—pedicures! Sure, they leave our toes looking picture-perfect, but did you know there are so many health benefits associated with regular pedicures? And when it comes to getting the best pedicure experience, Pia Esthetics Day Spa is your go-to place! Here are the top seven reasons why getting pedicures regularly is a fantastic idea!👇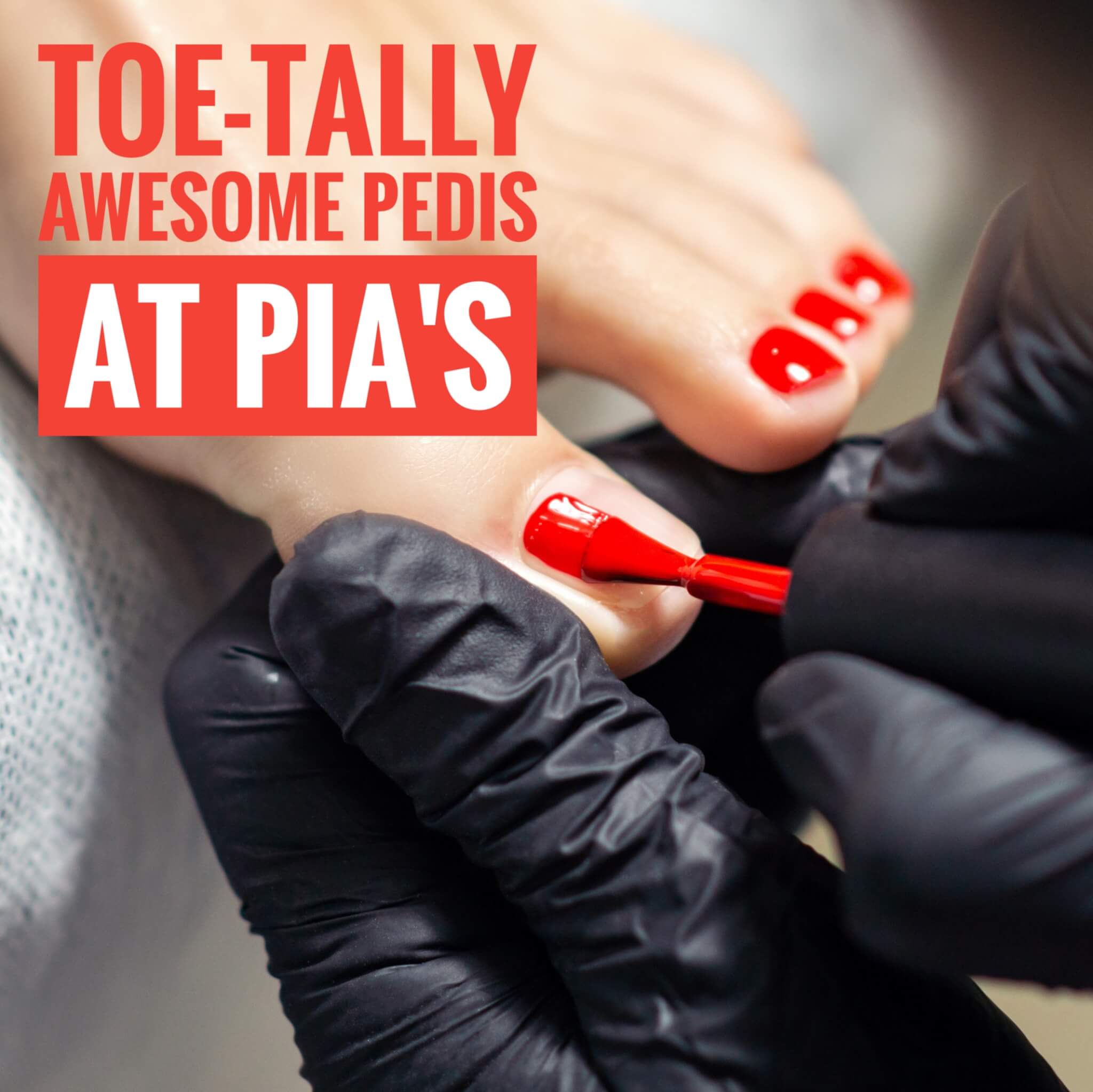 Exfoliation Extravaganza 🌟: Dead skin cells? No, thank you! Regular pedicures can help exfoliate your feet, removing dead skin cells and encouraging new cell growth. This leaves your feet smoother and healthier.
Prevent Infections 🛡️: Keeping our feet clean and hygienic can help prevent nail diseases and foot infections. A professional pedicure at a trusted spa like Pia Esthetics Day Spa provides thorough cleaning and grooming, which your feet deserve.
Stress Relief 🧘‍♀️: We all know how relaxing a pedicure can be. The massaging of your feet and lower legs can alleviate tension and stimulate circulation, sending you into a state of total relaxation. Aaahhh, can you feel it already?
Boosts Blood Flow ❤️: Massages during pedicures aren't just for relaxation—they also improve blood circulation. This promotes healthier nails, skin, and joints in your feet.
Keeps Feet Moisturized 💦: Regular moisturizing prevents cracks from developing in your feet, especially the heels. And a pedicure? It's like a deep hydration treatment for your feet! It helps preserve their integrity and makes them look shiny and refreshed.
Early Detection of Problems 👀: Regular pedicures mean that a professional is taking a close look at your feet regularly. This can lead to early detection of corns, bunions, and fungal infections, nipping any issues in the bud before they become a problem.
Boosts Self-Esteem 😎: Let's not forget the psychological boost! Having well-maintained, pretty feet can make you feel good about yourself and increase your confidence. Who doesn't love the feeling of slipping their newly pedicured feet into sandals?
Now, why Pia Esthetics Day Spa, you ask? This spa understands that beauty is more than skin deep. They take hygiene and cleanliness to the next level, ensuring a safe and health-focused approach to their pedicures. The staff are professionals who understand the importance of early detection of potential skin and nail issues. And most importantly, they believe in delivering a service that leaves you feeling relaxed and refreshed, inside and out.
Expertise and Experience
Our spa professionals are trained and experienced, offering unmatched pedicure services that cater to your specific needs and preferences. You're guaranteed a personalized, satisfying experience with every visit.
Hygiene and Safety
We uphold the strictest hygiene and safety standards. All tools are sterilized after each use, ensuring that your health is never compromised.
Wide Range of Services
Whether you're seeking a simple, classic pedicure or looking for a luxurious spa pedicure, Pia Esthetics Day Spa has you covered. We offer a range of services, from basic nail care to intense foot treatments.
Relaxing Environment
Our spa is designed to provide an environment of ultimate comfort and tranquility. Here, you can truly escape the pressures of everyday life while enjoying our premium pedicure services.
High-quality Products
We use only the finest products that not only beautify but make sure your experience is top-notch.
So what are you waiting for? Give your feet the TLC they deserve! Head over to Pia Esthetics Day Spa for your next pedicure session, and strut out with happy, healthy feet! 👣😊
Call now, or make your appointment online.
Tampa – St Pete.