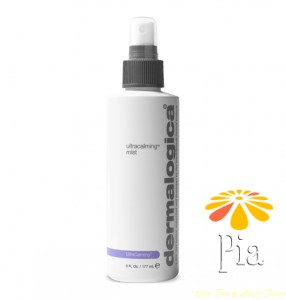 Surely you've seen our travel size Dermalogica products displayed in our retail area. These smaller versions not only cost  less than their full size forms but are incredibly useful when flying! Each is small enough to toss in your carry on for a much more enjoyable flight, for both your senses and skin. Keep reading to learn why flying is toxic to your skin and how to protect it with the below listed Dermalogica travel size products. While traveling is enjoyable the brutal truth is flying can cause countless skin concerns. Keep in mind that an airplane provides zero humidity. Combining this lack of moisture with recycled air, toxic chemicals and fluctuating temperatures makes for extremely unhealthy conditions for your skin. The air pressure inside of a plane is terrible for your skin as well because it absorbs the moisture from your skin, leaving not only your skin but also your lip dehydrated and irritated. Add the fact that it's nearly impossible to move around while flying to the mix makes for a stiff body that retains fluids and shows signs of puffiness, in your eyes and sometimes even your hands! The following travel size Dermalogica products are perfect for protecting your skin from the hazards of flying. Read on to find out why.
UltraCalming Cleanser:
Want to wash your face while also avoiding the airplane restroom? No problem! You can easily massage UltraCalming Cleanser into your skin while in your seat and simply remove it with a tissue for a fresh face after a long day.
UltraCalming Toner:
Perfect for spritzing dry, dehydrated skin. This toner is very effective at refreshing and reviving your parched skin so tuck it away in your carry on and spray it on your face whenever you need some quick hydration.
Skin Hydrating Booster:
This highly concentrated hydrating fluid is a sure bet for relieving dryness and minimizing fine lines. If you notice your skin is parched simply squeeze a few drops onto your fingers, massage into any dry spots and follow with your favorite moisturizer.
Barrier Repair Moisturizer:
This is a perfect moisturizer for traveling because its waterless, protective shield minimizes skin irritation, burning and itching caused by environmental toxins. It's lightweight, velvety texture feels amazing while fortifying your skin, protecting its barrier from becoming damaged.
Renewal Lip Complex:
A conditioning treatment balm that helps to smooth and restore hydration into your lips. Apply before your flight takes off to infuse your lips with moisture and after you land to restoring your lip's delicate tissue.
MultiVitamin Hand and Nail Treatment:
Also known as a glove in a tube! This intensely moisturizing cream contains Pro-Vitamin B5 and Vitamins C and E. Toss into your carry on to massage into your hands before, during and after your flight to keep your hands looking and feeling smooth and hydrated while you travel. If you travel a lot or plan to fly in the future stop into any of our 4 locations to pick up a travel size version of the above mentioned products to make your next trip much more enjoyable while protecting your skin in the process.