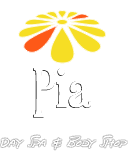 Shared Thoughts
Jessica L.
South Tampa Spa
The receptionist was very warm and welcoming. The front area was clean and tidy, as was the restroom I used while waiting. I was seen right away by my Esthetician. She did a fantastic job making me feel comfortable. She is very knowledgeable and did a great job explaining the waxing process and aftercare. I look forward to visiting Pia again for future services!

when? August 20th 2014
It was my first visit to Pia's, and I highly recommend my esthetician she was phenomenal! First, the receptionist was very prompt in responding to my appointment request, and scheduling was very easy. I received a reminder and confirmation of my appointment the day before which was appreciated.
The esthetician did an excellent job on my Fiji pedicure and manicure. My hands and feet were smooth and the polishing was flawless. She has an excellent eye for detail and I did not need to point out any areas that needed attention. Last, she has a very pleasant demeanor and made me feel at ease. I will definitely be returning for additional services.

when? August 17th 2014
An amazing esthetician. She is very personable, professional and does a super job! I have never left an appointment dissatisfied. Keep up the good work!

when? August 17th 2014
I love Pia:) I've been going to Pia for years and wouldn't go anywhere else for waxing:) all the staff is fantastic

when? August 17th 2014
My esthetician was very attentive and did a fantastic job.

when? August 16th 2014
Very nice place and Great massage!

when? August 16th 2014
The girls at Pia are all so sweet, they make me feel like I am among friends. It's always a pleasure to visit. I have been coming to Pia Winter Park for years now, and I have never had a bad experience. The quality of services and products as well as the professional and friendly staff keep me coming back, despite more competitive prices elsewhere.

when? August 16th 2014
I love coming to Pia because not only are my services always great, but everyone there is so nice and easy to talk to. My massimo facial was amazing and exactly what I needed - I mentioned to my esthetician that I had some neck pain and she did everything she could to massage out any tension in my neck. My skin also looks so much more bright and smooth after the facial and I didn't have any redness from extractions like I have gotten in the past at other places. My pores are much more refined now which is exactly what I was looking for!

when? August 14th 2014
My appointment was everything that I had hoped it would be. The front desk receptionist was warm and friendly. My Esthetician was extremely professional and really took her time to assess my brows. She let me know what she was going to do before she began. My nail tech was very friendly and she really took her time on my mani/pedi. The job was thorough and flawless. I will absolutely return soon!

when? August 13th 2014
Jessica S.
Winter Park Spa
I came to Pia because I used to live in Tampa and I had a good experience there. And this location did not let me down! Everything was perfect! I was 5 minutes late because I got a bit turned around driving there for the first time. When I arrived I apologized because I hate being late anywhere, and the woman at the front desk was so pleasant and immediately put me at ease. My esthetician was a consummate professional. She was thorough and took her time but efficient as well. She had me in and out of her room in 30 minutes. I highly recommend this place for waxing and look forward to going back to try other services.

when? August 13th 2014
I had been holding on to a Gift Certificate since December (Christmas present). I decided to pamper myself for my Birthday. The lady at the front desk was attentive and pleasant. I had some very refreshing green tea while I waited for my Massage Therapist was wonderful. She was soft spoken and polite. The Massage was incredible. She has great hands and made me feel comfortable and relaxed... which is exactly what I needed. It was my first time at the establishment and I know I will return. Thank you all!!!

when? August 13th 2014
I have been a client for years and would not go to anyone else! Not only is she very professional and skilled, but she has a great personality, great sense of humor and possesses a natural gift for making clients feel at ease. She is very knowledgeable and educates her clients, as well.
The receptionist is great! She has a wonderful presence and greets clients and provides excellent customer service.

when? August 10th 2014
I had a great first time experience at Pia on Friday. Everyone was friendly and helpful. My esthetician did an amazing job on my Massimo facial. She gave me good advice on what products I need to keep up my skin care better and I look forward to my next facial with her soon.

when? August 10th 2014
A natural brow artist. She always does a beautiful job.

when? August 9th 2014
Everyone is always very friendly and professional when I visit. She did an amazing job of shaping my eyebrows. This is the only place I want to go for my waxing needs. Thanks ladies!

when? August 9th 2014
My esthetician is wonderful, does a an amazing job and makes you feel comfortable during the whole Brazilian experience!!

when? August 9th 2014
Will be back!!

when? August 8th 2014
It was a pleasure to have a waxing done. She was very professional and personable. She did an outstanding job, best

when? August 7th 2014
My girl was awesome! I am looking forward to my appt. next week for the facial :)

when? August 7th 2014
Excellent team at Pia Spa. It was my first visit and I certainly will return. Cannot wait! Thank you for the relaxation.

when? August 6th 2014
I moved from Tampa to Spring Hill 9 months ago and I still continue to come to Pia. I will be getting my first pedicure in addition to my normal waxing in October for my wedding and I know you guys will do great!

when? August 5th 2014
This was such a great and relaxing experience. I was given a gift card for my birthday and was finally able to use it. I am very impressed with the staff, their professionalism, and how nice everyone was. It was a great experience, I will refer friends to this location. I can't wait to come back!

when? August 4th 2014
Everyone here is always amazing and so friendly! I absolutely love My girl, Very professional and awesome all around!

when? August 4th 2014
My technician was her usual spectacular self, while being patient and caring at the same time. She is never in a rush and always on her the Top of her Game!
Also the entire staff at Pia's is so well trained and friendly, which makes the entire experience exceptional.


when? August 4th 2014
As usual the overall staff is very friendly and my esthetician is a great person to go to for waxing. I believe I have now gone to all the ladies and have never had a bad experience. They are all very professional and make the process go by fast with their candor.

I have recommended you multiple times!

when? August 1st 2014
Excellent customer service.

when? August 1st 2014
Crystal S.
Winter Park Spa
I cannot recognize her face from the pictures, but the one who performed the facial did an excellent job! Though one of the products burned a bit, she remained professional and was courteous throughout the entire experience. Very well done!

Overall, from start to finish I had a great experience. The hospitality was impeccable, and I would sure recommend this to people traveling to the area. I felt relaxed from the moment I arrived, and I have nothing but good things to comment!

when? August 1st 2014
My nails look great and had a good experience. Very professional. Everyone at Pia is always very cordial and helpful.

when? July 28th 2014
Everyone was very welcoming and professional! It was a very relaxing experience. Tech was very knowledgeable and professional. It was one of the best facials I have ever had!

when? July 28th 2014
My Esthetician did an excellent job and explained each stop of the process to me. She was very warm and friendly and made me feel comfortable right away. I will definitely be back! The whole staff was exceptional, from the front desk to all employees. I would highly recommend Pia to my friends!

when? July 27th 2014
Perfect....on time...welcoming....nice atmosphere ....nice job!!!!!!

when? July 27th 2014
This is the second time I go to Beatriz for waxing and I cannot say enough good things about her! Not only is she very professional, but she is extremely nice, polite and such a warm person. I have not had good experiences with waxing at so many other salons, but with Beatriz, she waxes in a very short amount of time, leaves no wax residue, and she is extremely professional. :)

when? July 25th 2014
I had a very nice welcoming experience. Liby was excellent and really took her time to explain where my eyebrows needed to grow in and what she could do for me once they grew in. She helped introduce me to new helpful products to enhance brow growth as well. Definitely recommending this place to friends and coworkers.

when? July 24th 2014
I've been to multiple spas for a wax, and I had the BEST experience at Pia. The staff was friendly, and my technician was fast and very kind. She made me feel comfortable, and was a pleasure to talk to. I am excited to return for another service!

when? July 23rd 2014
This was the best pedicure I have ever had! My nail technician was great. The soles of my feet are very sensitive; this has always been an issue with pedicures, but not this time! The spa is very nice, and the atmosphere is soothing and relaxing. The staff is very friendly and attentive. I highly recommend Pia Esthetics, and I will definitely return!


when? July 22nd 2014