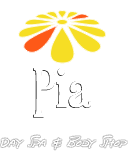 Shared Thoughts
My esthetician is such a jewel. She takes what can be a painful experience and makes it quick and easy, with great results! She and her staff are always smiling from the minute I walk in the door until I leave. I highly recommend Pia St Pete to everyone!

when? April 23rd 2014
My esthetician was fantastic...she is very friendly and brings a feeling of professionalism and comfort the Pia services she performs. Definitely would return for additional services.

when? April 23rd 2014
AMAZING! I explained what I was looking for and was able to get a same day appointment!! Then, I met with my esthetician who is awesome! She made me feel very comfortable. I don't think there was a single moment of awkward silence during the whole 35 minutes. She talked me through every step she was doing and told which areas were going to hurt the most. Over all, my experience was better then I imagined it would be. I have already recommended them and I will be seeing her often, she's my new BFF ;)

when? April 23rd 2014
I had gotten the Chocolate manicure for my friend and I, to celebrate her birthday together...some girl bonding time :) We not only enjoyed ourselves and our nail techs, but I'm planning on taking my 11y/o daughter back with me so I can share some mother-daughter binding time with her. She already loves doing all the girly things, so this will just be icing on the cake, but with chocolate :)

Blessings, Barbara V.

when? April 22nd 2014
She did a fabulous job on my facial and manicure/pedicure. My procedures were relaxing, She held a good conversation, she was complimentary and pleasant. It was wonderful to get some tea duirng my procedures too.

when? April 21st 2014
As a full time worker and a full time mom, I needed an alone time and to relax. I got all of this by coming to your place, tea was great, the mood in the room had a relaxation spirit, and the smell was a fresh air. Anna did a great job at making my face feel great again and the message I got was unbelievable. She had such a soft and smooth hands which put me to sleep at times, I would definitely come again to have a ME day and recommended it to my family, friends and co workers

when? April 21st 2014
I was a first-timer and she was excellent. Very professional, answered all my questions, excellent technique. I would absolutely go back! I've already scheduled appointments to try the spray tan and facial too. Great experience and staff :)

when? April 21st 2014
I'm a happy and satisfied customer over a year and would recommend Pia's to my family and friends. I also recommend the massage therapist! He's friendly and professional which has been my experience with nail staff as well. I'm very happy with the service I received and look forward to my next visit.

when? April 20th 2014
She was absolutely WONDERFUL! Not only was she friendly

when? April 20th 2014
You are amazing, I feel great every time I walk out of my waxing routing. You are very professional.
My pedicure was also amazing, very relaxing. Can't wait fort next one.
I absolutely recommend this place!!


when? April 18th 2014
As always, I had another wonderful experience at Pia. The staff are always very friendly. Unlike many places, at Pia I am greeting with a warm reception and familiar faces that not only recognize me but care about me. Pia is my place of choice, for waxing and all of my spa services.

when? April 18th 2014
Very welcoming the minute you enter the door. I felt at ease since my last experience with another company was not so great. Liby is professional, caring, and has outstanding customer service skills, because of her my waxing needs have found their new home! Wilmarie is kind, professional and very friendly. Thank goodness Pia exists!

when? April 17th 2014
I spoke with reception over the phone to purchase a gift card and it was quick and painless - Thanks for making it so easy to pick up a treat someone!

when? April 17th 2014
This is the first time I visit Pia Spa, after I received a gift certificate from my husband. My nail technician was extremely courteous, polite and very nice. She has really good hands and I enjoyed the pedicure tremendously! She took her time and did not rush. I would definitely go back to Pia for another service in the future.

when? April 16th 2014
I popped in on Friday for an eyebrow wax and loved that the girls were able to get me in. I only trust Pia with my eyebrows and it was my first time with a different technician and she did a great job. She was very friendly and spent time making sure they were even and good. It was also so soothing too with the music and the smell! It felt so nice to be pampered.

The receptionist helped me on my way out and is such a sweet friendly face. She also greeted a first time customer while I was there and was so welcoming. I always love coming to Pia!!

when? April 16th 2014
My massage was heavenly, and I have felt so much better for a number of weeks since the massage.the massage reAlly worked out a lot of built up aches and pains from stress and sitting at a desk all day. Everyone was very friendly and offered me water. The salon/spa was a welcoming environment. Also, it is so nice you all have your own lot and there was plenty of room to park. I will definitely be back for another massage. My experience could not have been better. Thanks!

when? April 16th 2014
I had a great experience at Pia Esthetician. Wilmarie was very kind and welcoming. She is very well trained and knows how to make a first timer very comfortable. Anna was awesome. She explained what she was doing every step of the way.
The facility was clean and very well kept. I really enjoyed my experience.

when? April 16th 2014
Danielle K.
Winter Park Spa
My waxing experience was great. My esthetician was very friendly and made me feel comfortable. The waxing didn't take a long time, but was done very well and there was minimal pain. I will definitely be back in a month!

when? April 16th 2014
I was greeted promptly by a smiling receptionist. Another attendant offered something to drink, which is a self serve area, but she insisted on preparing my beverage for me, which is a nice service touch. Pia is a consummate professional and realized I would benefit from having my eye lashes tinted. They look great! Thank you!

when? April 15th 2014
I was just telling a coworker today that never in a million years did I think I would be the type of person to go out of my way to recommend a spa but now I am. This is my second time going. She's beyond professional! She was friendly, approachable, answered all my questions and above all was understanding. She remembered me and was so kind. My experience can be summed up by what she actually told me. She said, "Everybody is entitled to feel happy and confident with themselves. We just want you to be comfortable." Thank you so much!

when? April 11th 2014
This is the 3rd or 4th spray tan that I have gotten from Pia's. The staff is friendly and the tan is perfect every time. Thank you.

when? April 10th 2014
Love this place. Great service. Friendly staff. My nails and lashes look great.

when? April 10th 2014
First time at the south Tampa location and loved it! Pia is always on time which is great!

when? April 10th 2014
Friendly service. Everyone was very polite and accommodating. Happy with the end results.

when? April 6th 2014
My experience was awesome and the staff is really nice and professional.. They know what they are doing!! :-)

when? April 6th 2014
I always enjoy my time at Pia for that special attention and relaxing environment . She is not only very professional but a wonderful person that I feel very comfortable with and can count on for great advice and good conversation!

when? April 6th 2014
Stephanie W.
Westchase Spa
She really listened to what I wanted! Great job!

when? April 6th 2014
My esthetician was so amazing and made me feel so comfortable with something I had never done before. She was fast, listened to what I wanted and delivered perfect results. I will be coming back AND I will be referring my friends. Thanks for making the wax such a great experience for me!

when? April 6th 2014
Excellent work, quick and friendly atmosphere. Front desk was very helpful also.

when? April 4th 2014
My favorite thing about Pia is the cleanliness! Bonus, your staff are very friendly and professional. My Nail Technician did a lovely mani/pedi.

when? April 4th 2014
Hi there, Denise and I really enjoyed our experience when we came on Tuesday. I particularly loved my Esthetician. She does a fabulous job on my facial and I always enjoy my visits with her. The young lady on reception was very friendly and informative. My friend and I travel down from The Villages which takes us at least an hour but we enjoy our visits so much it's worth travelling the distance. Thank you Pia!

when? April 2nd 2014
Jennifer L.
Winter Park Spa
My Overall experience was absolutely AMAZING! I have no reason to rethink giving Pia Esthetics 5 stars. I came to Pia for my very first Microdermabrasion Facial and it was the best experience I could have for my first! My Esthetician was such a sweet girl and listened to my concerns as to why I was getting a facial and kept the conversation going while I was rambling on during my facial. She gave me the answers I need to walk out of their with the confidence I needed to maintain my glow and flawless skin. The receptionist was extremely professional and showered me with such welcome the moment I walked in. The place is super clean and organized and the staff actually WANT to be there. I couldn't THANK them enough for making me feel so welcome and excited about my experience..They truly deserve so much credit for being such welcoming upbeat staff and making me decide to come back for round two!! Thank you girls and Pia Esthetics for an amazing experience!

when? April 2nd 2014
Jessica C.
Winter Park Spa
Very professional. Quick and meticulous. Lovely experience

when? April 2nd 2014
This was my first visit and most certainly not my last. Anna did an excellent job. Thank you all.

when? April 2nd 2014
As usual, a 5 star experience! I am becoming a regular now and refuse to go anywhere else because in my judgment this is the most wonderful spa in town. Always a great experience; and consistency is important, one can expect the very best every time. The people make the place, and it is clear they all love what they are doing and their enthusiasm and professionalism are palpable. None finer in my estimation. I would encourage you to give Pia a try for any of your esthetic needs. I am certain you will return again and again! Cheers : )

when? April 1st 2014