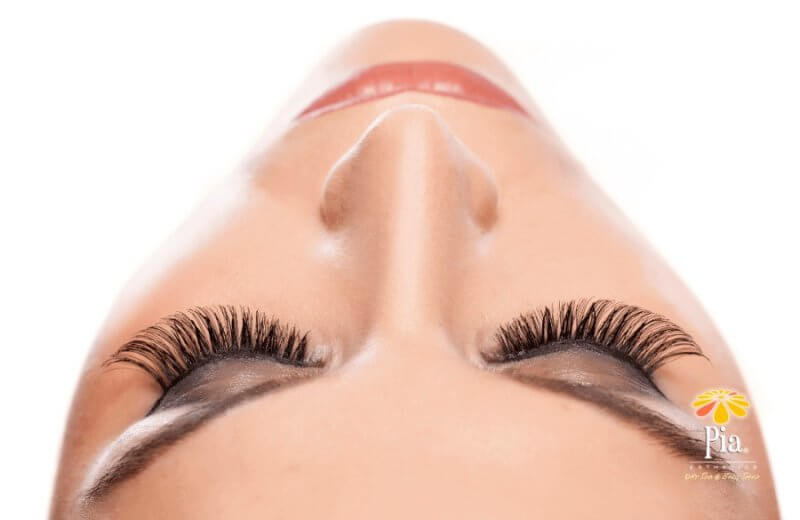 Wonder why celebritie's lashes always look so perfect? Ever thought about getting eyelash extensions? At Pia Esthetics Day Spa we specialize in the beautiful art of enhancing your eyelashes. We are the preferred destination for expert advice on eyelash extensions, so we compiled this extensive guide for navigating the world of lash extensions. 
1. Know your myths!
Some say eyelash extensions are harmful to your natural lashes. This is false, in order to get eyelash extensions, we need you to have a foundation of strong and healthy lashes so they can support the small extra weight. At Pia's your lashes are applied by one of our experienced professionals.  Another myth we hear is, "They do not last for more than a week!" Actually, they could last for three weeks depending on home much you are taking care of them. Later in this article, we'll discuss some tips for maintaining your lashes, so they can always be full looking and natural. The funniest myth we've heard is, "There's no way you can remove your eyelash extensions without ripping out your real ones." This is absolutely untrue, removal is not necessary since they fall out with your natural lash cycle. We can also professionally remove them for you with a completely safe removal solution. There is no need for experimenting at home.  
2. Different Types of Extensions 
At Pia's, we offer two different types of eyelash extensions, our classic and volume sets. Our classic eyelash extensions lengthen and thicken your natural lashes. Each lash is applied one by one to your own eyelashes creating a natural, beautiful, luscious look. It is necessary to get touch-ups every 2-3 weeks to add lashes to the new growth as a person's natural eyelashes fall out every 60 to 120 days. Whether you are looking for an every day look, lashes for your wedding day or just a weekend away, our classic lash extensions will transform your look! There are two different characteristics clients desire in their eyelashes: length and fullness. While classic eyelash extensions add moderate to extreme length to your natural lashes, volume lashes are used to improve their texture, depth, and ampleness. Many clients are happy with the natural length or their eyelashes but desire a fuller look. Volume lash extension are designed to fill in the gaps where classic eyelash extension could not. This technique allows the artist to apply multiple extensions to an individual eyelash. Each extension is extremely lightweight and requires a fraction of the safe lash adhesive used with old techniques. Both options are great alternatives to applying your own fake lashes and achieve a more natural look. 
3. Maintenance Tips and Tricks
The first 24-48 hours are crucial. Avoid steam from shower, facials, and saunas, as any excess moisture can break down the adhesive. Our lashes are waterproof, but avoid these activities for the first day. The less you do, the longer your extensions will last. These lashes are already perfectly curled, so no need to apply mascara, lighten up on the shadow and liner and ditch the lash curler. If you decide to wear any shadow or liner, use an oil-free makeup remover or wipes. Wipe upward towards your brows instead of down. Pick up some disposable mascara wands for daily cleaning and maintenance. Brush the tops of your lashes to remove any lint or dust.                                                                                                                                                                    
Contact Us

If you're interested in eyelash extensions, click here, and find the closets Pia Day Spa location to you! We have professional aestheticians waiting to make your flawless lash dreams a reality.