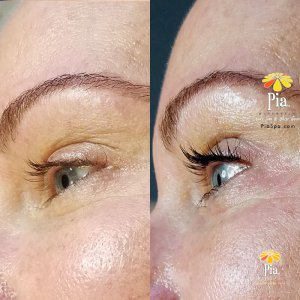 Forget about the warm spoon and toothbrush tricks to make your eyelashes curly. LASH LIFT promises you long-lasting curled lashes, at a very affordable price!
  Ever heard about Eyelash Perm? 
The technology to make your lashes curly 24/7 already existed, and we have been offering it for years as Eyelash Perm. However, the beauty industry is always renovating and looking for more options to enhance your natural beauty. This year, Pia Day Spa is offering the latest technology in eyelashes with LASH LIFT.
What is a LASH LIFT?  
It's simply an advancement on the old fashioned Eyelash Perm. Unlike the perm rods used in the past, LASH LIFT technique uses a silicone pad that lifts the eyelashes from the roots only. This creates a subtle, natural looking lift that gives the illusion of longer eyelashes, which makes your eyes appear more open.
Either if it's a LASH LIFT or an Eyelashes Extensions, we recommend getting your beauty treatments done by a certified professional. Book your appointment with us today!
book your lash lift in Tampa
book your lash lift in st Pete
More Resources:
We Got Eyelash Lifts And Our Lashes Looked Insane
I got a lash lift and it blew my mind.
These Before-And-After 'Eyelash Lift' Photos Will Give You Serious Lash Envy
How a Lash Lift Changed My Life
How does a lash lift work? We put it to the test