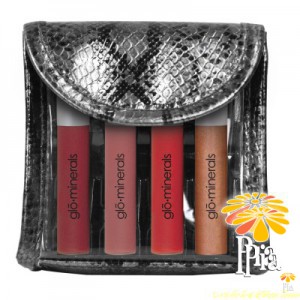 This gorgeous, kissable lips are yours with the Deluxe Mini Lip Collection. The snakeskin-print case contains four alluring mini Glosses for irresistible, luxurious lips.
Kit includes Mini Glosses in:
cherry blossom, nude, poppy and star struck
How It Works
Formulated with glo minerals exclusive blend of antioxidants, including Vitamins A, C, E and Green Tea Extract, plus the moisturizing ingredients of Safflower Oil and Aloe, to provide vital nutrients to the lips and keep them healthy while looking beautiful.
Expert Tips & Techniques
Apply a small dab just in the center of the lips to create the illusion of full, pouty lips.