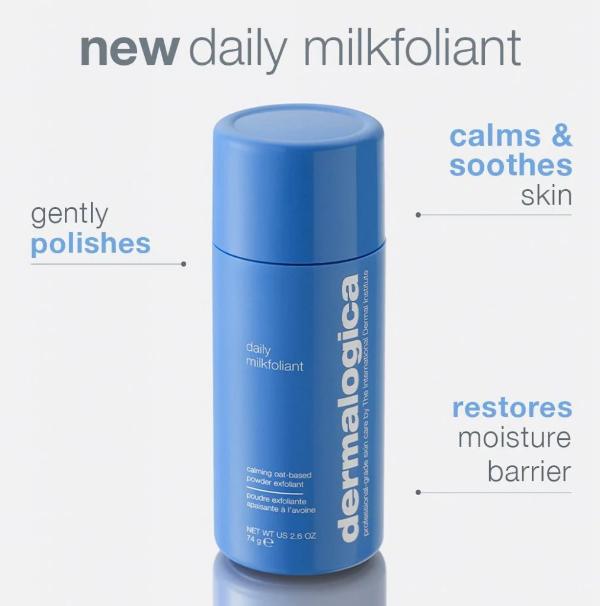 Daily Milkfoliant (2.6 oz)
DERMALOGICA
gentle exfoliating powder
---
---
Calming vegan exfoliating powder polishes skin while supporting the skin's moisture barrier.
Vegan milky powder exfoliant with Oat and Coconut activates upon contact with water, releasing botanical extracts to help polish away dead skin cells. This gentle exfoliating powder and a blend with fruit-based Grape Extract and Arginine rich in Alpha Hydroxy Acids (AHAs) and Beta Hydroxy Acids (BHAs) work together with Coconut Milk for smoother, softer skin. Harvested from Papaya, Papain Extract provides exfoliating properties, helping to resurface skin.
benefits
clinically proven to smooth skin calmly after just one use.*
Gently polishes to reveal smoother, more vibrant skin
Replenishes and supports skin's moisture barrier
Relieves skin with calming and soothing ingredients
how to use
Dispense a half-teaspoon into wet hands and create a creamy lather by rubbing hands together. Apply to face in circular motions, avoiding the eye area. Massage gently for one minute, then rinse thoroughly.